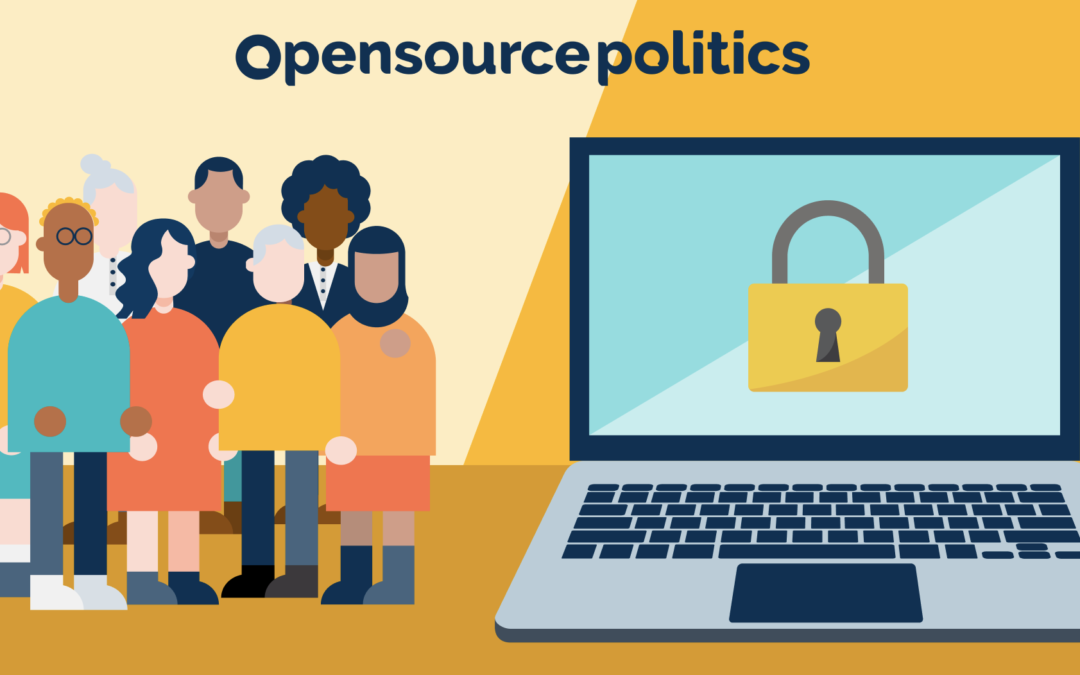 In a context of institutional mistrust, many hopes are pinned on digital technology. Civic tech aims to strengthen citizen engagement and participation. However, 13 million French men and women have difficulties with the use of the Internet. This context could quickly slow down the development of civic tech. How can we guarantee the inclusion of remote audiences in the digital tools for citizen participation? This paradox was at the heart of the round table discussion "Digital inclusion - an oversight of participation" during the National Meetings on Participation in Mulhouse.
Digital and citizen participation
Moderated by David Prothais, administrator of theInstitut de la Concertation et de la Participation Citoyenne, the debate brought together :
Emma Ghariani- Co-director of La Mednum
Virgile Deville - Product Director, Co-founder ofOpen Source Politics
Anne-Claire Dubreuil - Digital Transformation Project Director at Sicoval
The speakers stressed the importance of associating digital mediation and citizen participation in order to reduce inequalities in access to digital technology. Indeed, online participation is meant to be free and open, but it must be accessible to as many people as possible. However, it should be noted that at present, civic tech is still far from reaching the general public and that its participants have fairly homogeneous sociological profiles. In addition, there are sociological biases that may be introduced directly into the computer code by the developers. In the IT development sector, the majority of people are still men with a high level of education and from privileged social classes. Civic tech must therefore pay close attention to this phenomenon. Otherwise, the models developed will be non-inclusive and de facto non-democratic.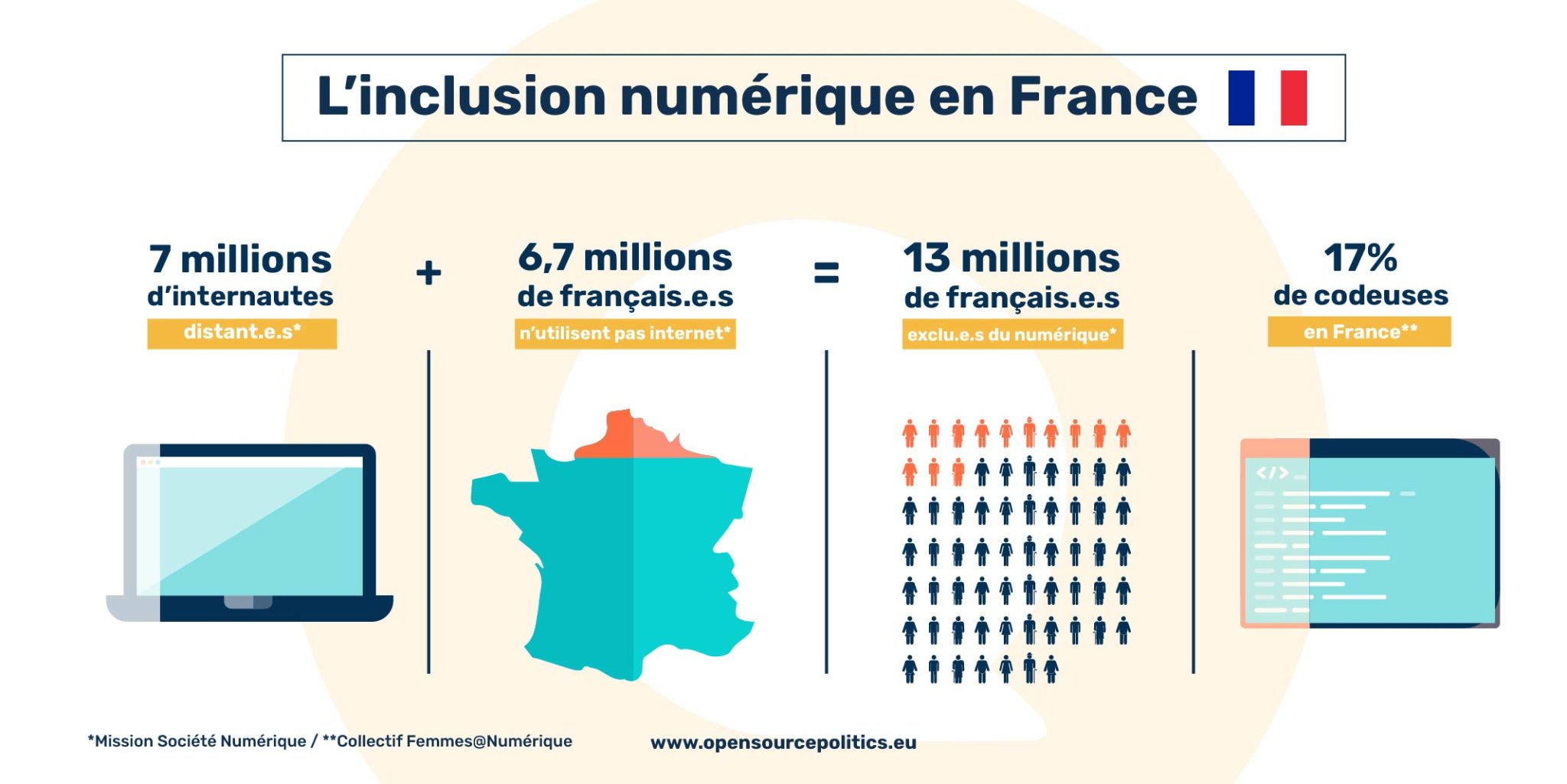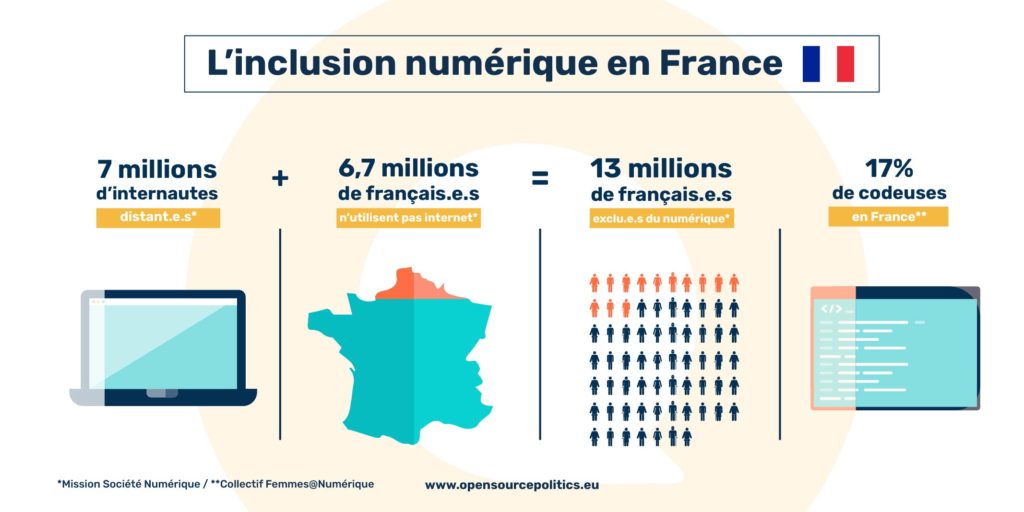 Digital inclusion at the heart of the Decidim and Open Source Politics project
Since its inception, Open Source Politics has placed great importance on including a wide audience in its missions. With this in mind, our teams strive to simplify the user experience and improve the accessibility of the platform. Open Source Politics also strives to adapt the communication of its platforms to different audiences. For our partners, we produce Easy to Read (FAL) content for users.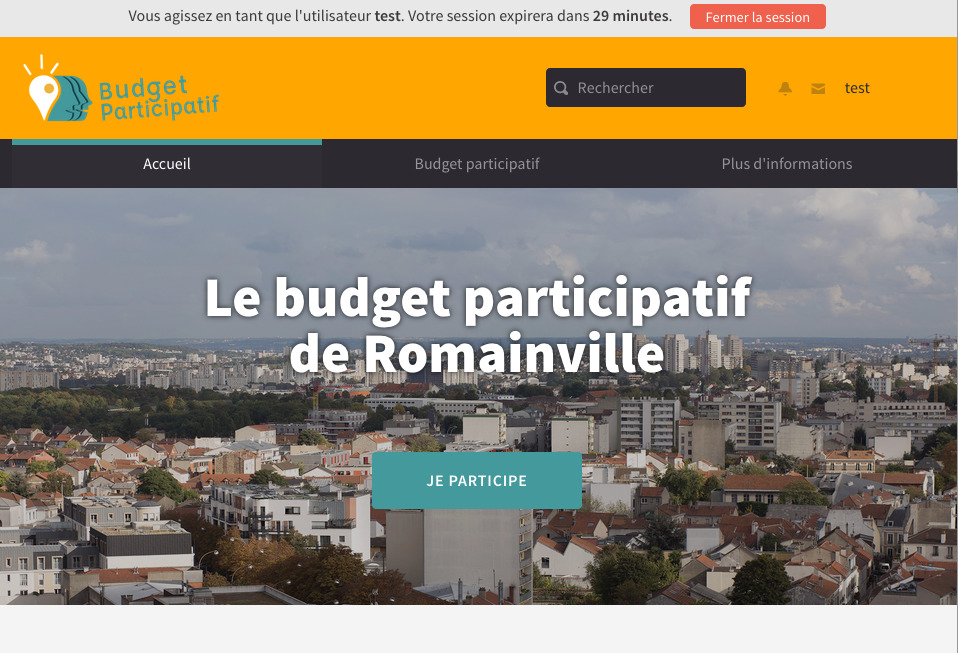 It should also be noted that Decidim is compliant with the Web Accessibility Initiative (WAI) standard. The French legislator has aligned itself with the European directives for the Référentiel général d'accessibilité pour les administrations (RGAA ). Accessibility to the platform is given the utmost attention by the Decidim community.
Decidim is a project that advocates for the creation of inclusive digital spaces. Features have been designed with this in mind. For example, the represented users allow an administrator to register a contribution "as" in order to make the contributions of people who are far from digital visible on the platform.
In order to fight against the gender bias introduced directly into the code, the Decidim association has set up the DecidmFemDev Program which grants scholarships to women and non-binary people wishing to contribute to the development of Decidim.
The example of Emmaus Solidarity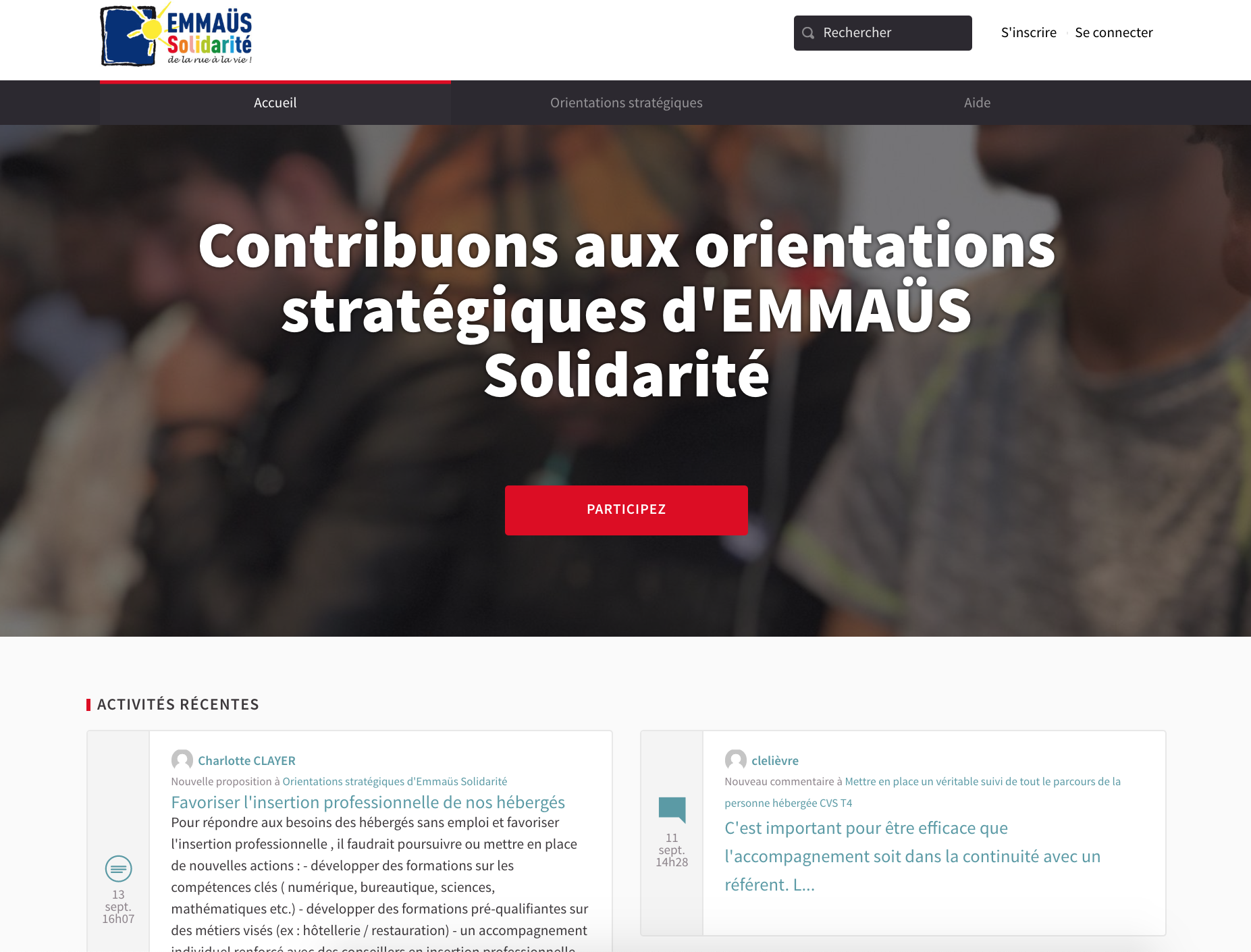 As an example, Open Source Politics helped EMMAÜS Solidarité to implement an internal consultation to determine the association's strategic orientations. The platform has 284 subscribers, 74 proposals and 12 meetings. In addition, EMMAUS Solidarity also launched two surveys: one for employees, volunteers and members, and one for the people it supports. In this spirit, the organisers used the " Represented User " feature during the meetings with supported persons. Our consultants participated in several of these meetings to assist in person the remote audiences who wished to contribute. The results provided a diverse input reflecting the different stakeholders of Emmäus and contributed to the development of the association's strategy for the period 2020-2025.
Digital inclusion, an eco-system of actors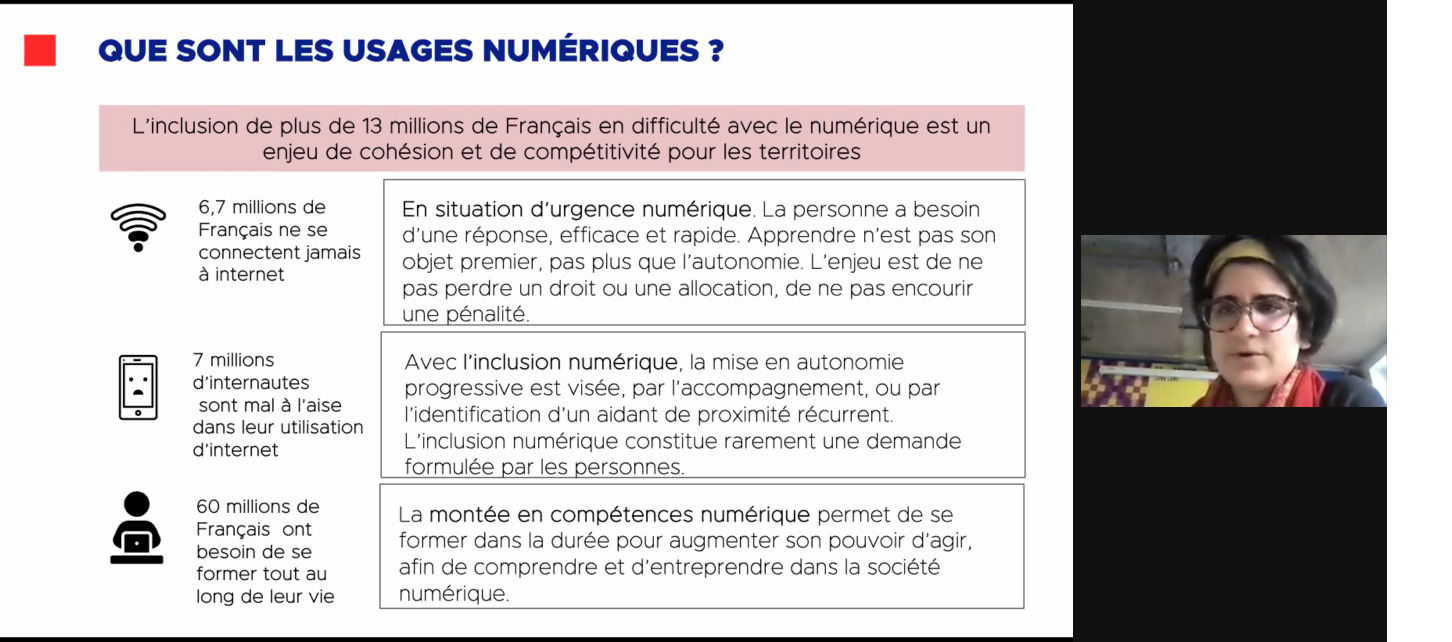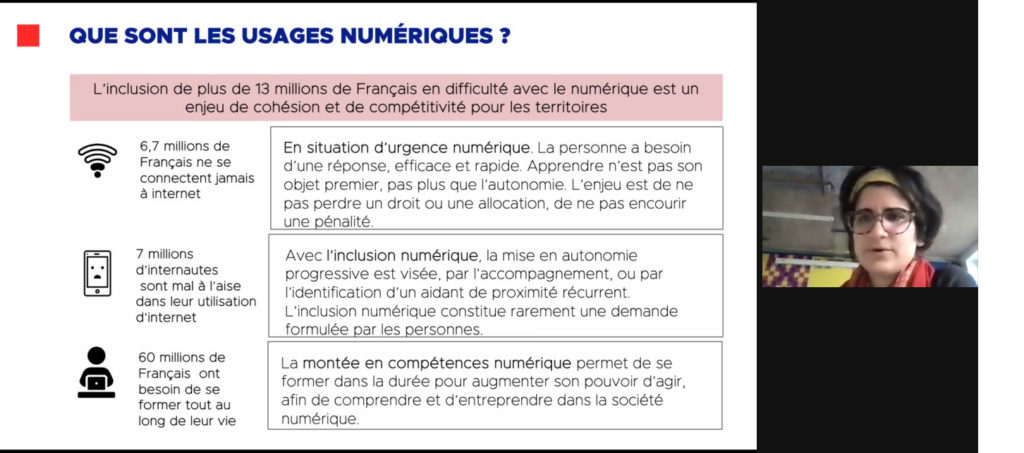 10% of the French population expresses difficulties with the Internet, that's a lot!

Emma Ghariani, Co-director of the Mednum
Yes, it is! And this is why we at Open Source Politics have been members of La MedNum for several years, an SCIC in which the State is also a shareholder and which brings together inclusion professionals by co-organising Numérique en Commun[s] every year. Through our contact with this ecosystem, we learn a lot and we keep abreast of the services that are developing and that can provide solutions.
For its part, the public authorities are increasingly committed to digital inclusion. Public funds have increased tenfold in recent years, from a few hundred thousand euros to 250 million, making digital inclusion a social issue to which a large-scale response must be provided. Thanks to this, new projects are emerging and the inclusion ecosystem is developing. In particular, we can mention the #APTIC digital passes which allow the financing of training in thousands of third places in France and Aidants Connect, a State startup launched to assist people in difficulty with their online procedures. A rapid intervention kit contains numerous documents and aids to facilitate the support of people who are far from computers by digital mediation professionals.
Open Source Politics is proud to be part of this movement for an open and inclusive democracy.