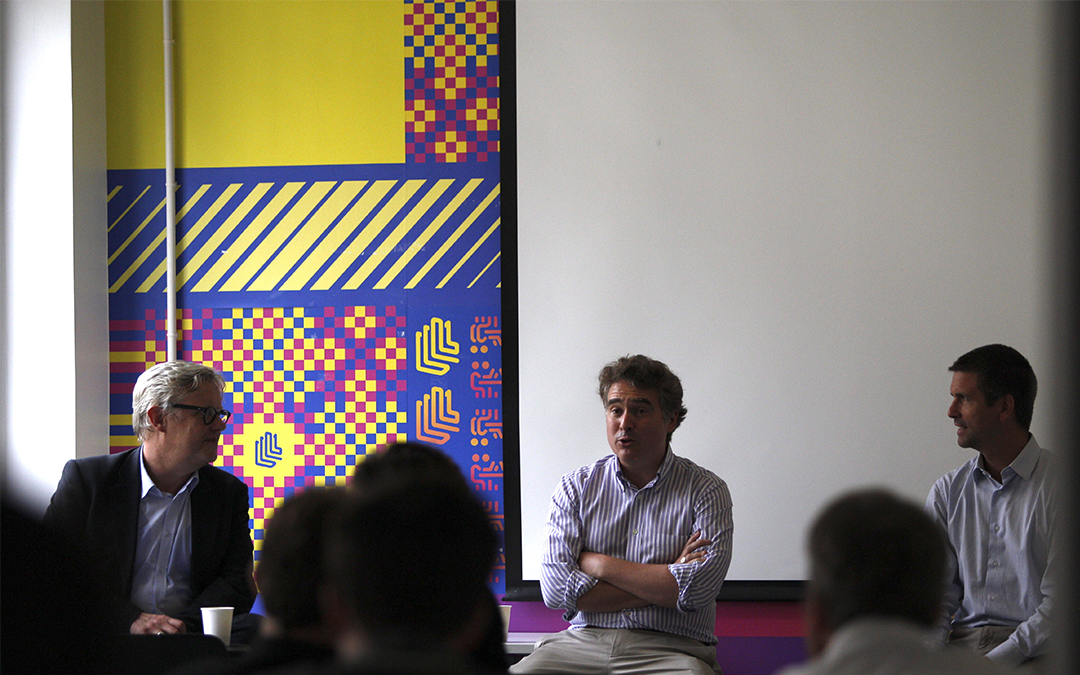 This article was written following Decidim Day, an event organized by Open Source Politics on September 12, 2019. Its purpose is to set out in writing the main arguments presented by the speakers. These discussions focused on the relevance of the concept of This is a "corporate democracy", the real underlying needs and levers such as Decidim, which embodies the new methods of collective intelligence.
We were delighted to welcome four speakers to this round table:
Corporate democracy:
what are we talking about?
This expression is not new as it has been used since the 1950s. However, like any concept, its meaning has evolved and, while it was an argument for giving shareholders more say at the time, it is now used to highlight employees and their degree of involvement in the company's strategic orientations.
Moreover, while the term can be intuitively understood as the application of democratic principles within private structures, its practical definition does not exist and its use is often devoid of nuance. There is a real need to clarify this term and "a continuity to be reflected upon between citizenship in the public and private sectors" (Loïc Blondiaux) as well as precautions to be taken in the application of a concept of public origin in the private sector. However, its use is not insignificant. 
This year, Open Source Politics had its first corporate use case - Decathlon - and our first observation: the theme of democracy has not remained on the sidelines.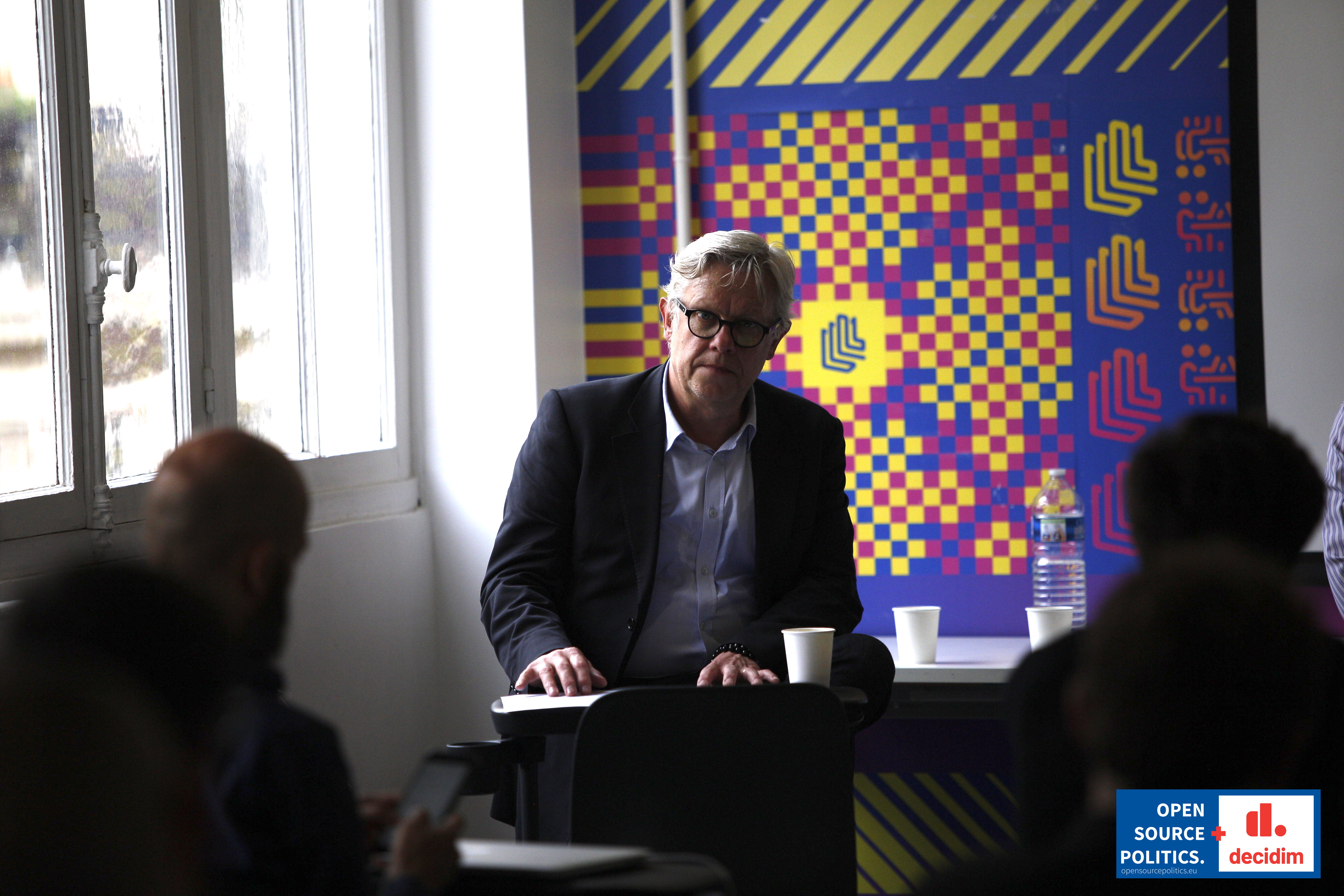 How relevant is this concept today? What are the specific needs of a company?
The PACTE law: a context that calls into question the structural organisation and CSR positioning of companies
Rudy Cambier introduced it: the PACTE law, which must come into force by 1 January 2020 at the latest, has put the issues of social mission, co-management, employee participation and governance back on the table. Corporate Social Responsibility (CSR) has been accentuated and strengthened to highlight a concrete need for organisational and structural change. As a result, and in a context of renewed economic, civil and social codes, more and more actors are talking about the need for economic/productive democratisation within the company. 
An economic democracy? Thomas Coutrotan economist and author of "Liberate Work", would define it as a situation where :
"On the one hand, workers collectively have a decisive influence on the organisation of their work, i.e. more precisely on the necessary trade-offs between productivity, quality of working conditions and remuneration. On the other hand, the power to manage the company is democratic and not privative in nature. "» – Neo-liberation of work and self-management
This context of democratization translates into several challenges for companies
Responding to employees' loss of sense of belonging
Estimating one's place in a company as obsolete or (at best) going ahead, on one's own scale, on strategic decisions but having no commitments in return; these are real situations for employees in many companies today. Even in the SSE sector, which Loïc Blondiaux establishes as the place "where democratic principles are attuned to capitalism", companies do not always respect them. And, according to him, although the sine qua non of corporate democracy remains that the employee has "a say in the strategic choice of the company and [is] able to contribute his or her idea of the working environment", a loss of sense of belonging can only be resolved by fully participatory approaches, as tools such as Decidim allow.
Ultimately, increasing employees' sense of belonging within a company also means establishing a corporate culture that better reflects internal dynamics (interests, needs and visions). 
...while taking a measured risk... 
Decidim, being a modular and deeply configurable tool, allows to model the most ambitious approaches in terms of participation. It also takes into account the progressive learning and appropriation time required. These same characteristics make it possible to start with simpler approaches (a call for proposals) limiting risk-taking and to move progressively towards more complex processes (co-construction and monitoring of the implementation of an action plan). This free software can thus adapt to the desires and needs of governance while ensuring that the questions asked are those that meet the most realistic objectives.
It is through promises that are kept because they are achievable that companies protect the satisfaction of all stakeholders. It is by documenting the decision-making process that these companies, in the same way that a government opens up its data, ensure a degree of transparency that is always welcomed in the best possible way. According to a survey conducted earlier this month by Sparkup, "More than half [of the French] (58%) think that their questions and feedback are not taken into account by the management team or management. Result: 86% would like their company to be more transparent. . Open Source Politics thus encourages project owners to use Decidim's functionalities to report on the framing, evolution and monitoring of the project to create more traceability on the commitments made and in this way, avoid any form of frustration.
Prevent a decrease in autonomy? 
Thibaud Brière added: "Thomas Coutrot noted that studies showed that in France, autonomy at work (of which he distinguished several categories) was decreasing. "Indeed, if there is democracy, what about autonomy? He underlines a paradox: "we have never talked so much about autonomy in companies, freedom, liberated companies, etc.". We can therefore wonder whether we are not talking about it all the more because the reality is less. "Autonomy or empowerment, collective intelligence methods allow employees to invest themselves personally and feel they are project leaders.
What are these methods of collective intelligence? How are they levers
for a possible corporate democracy?
In his article Collective intelligence, liberated enterprise and knowledge organization: the problem of the "energy transition" at GRDF, Antoine Henry speaks of collective intelligence as "a method of organising knowledge". . Indeed, as Lex Paulson asserts, it is an organizational method that thwarts the verticality of a company by making room for more employee/employer dialogue, which for the more international ones, decentralizes the dialogue to better converge local visions in the global strategy. It confronts points of view to bring out orientations; it disseminates dialogue spaces to better infuse the elements of debate.
More concretely, these methods translate into online (Decidim) or offline (e.g. creative workshops) co-construction spaces. These spaces arise from a need to take up a series of sensitive challenges for a company: a lack of stakeholder mobilisation on strategic decisions (vision, new products and services...), internal governance that slows down the implementation of a real transformation or a loss of employee buy-in and/or a culture that struggles to welcome open and innovative approaches. According to the BVA 2018 survey, 90% of employees would like to be consulted on corporate strategy and 77% of managers are also of this opinion.
However, as Loïc Blondiaux mentioned in an exchange with Lex Paulson, one unknown remains: although these tools of collective intelligence work relatively well, is there the political will to make them work? As Lex points out, there is a whole area of cultural pedagogy to be carried out within top management, and like all work, it follows a progressive curve.
It is on this stake that Decidim appears as an introductory tool to progressively implement collective intelligence tools and democratic will. This free software was born within the Barcelona City Council in 2016 with a clearly defined philosophy: technological innovations applied to participatory approaches must integrate democratic principles from their conception.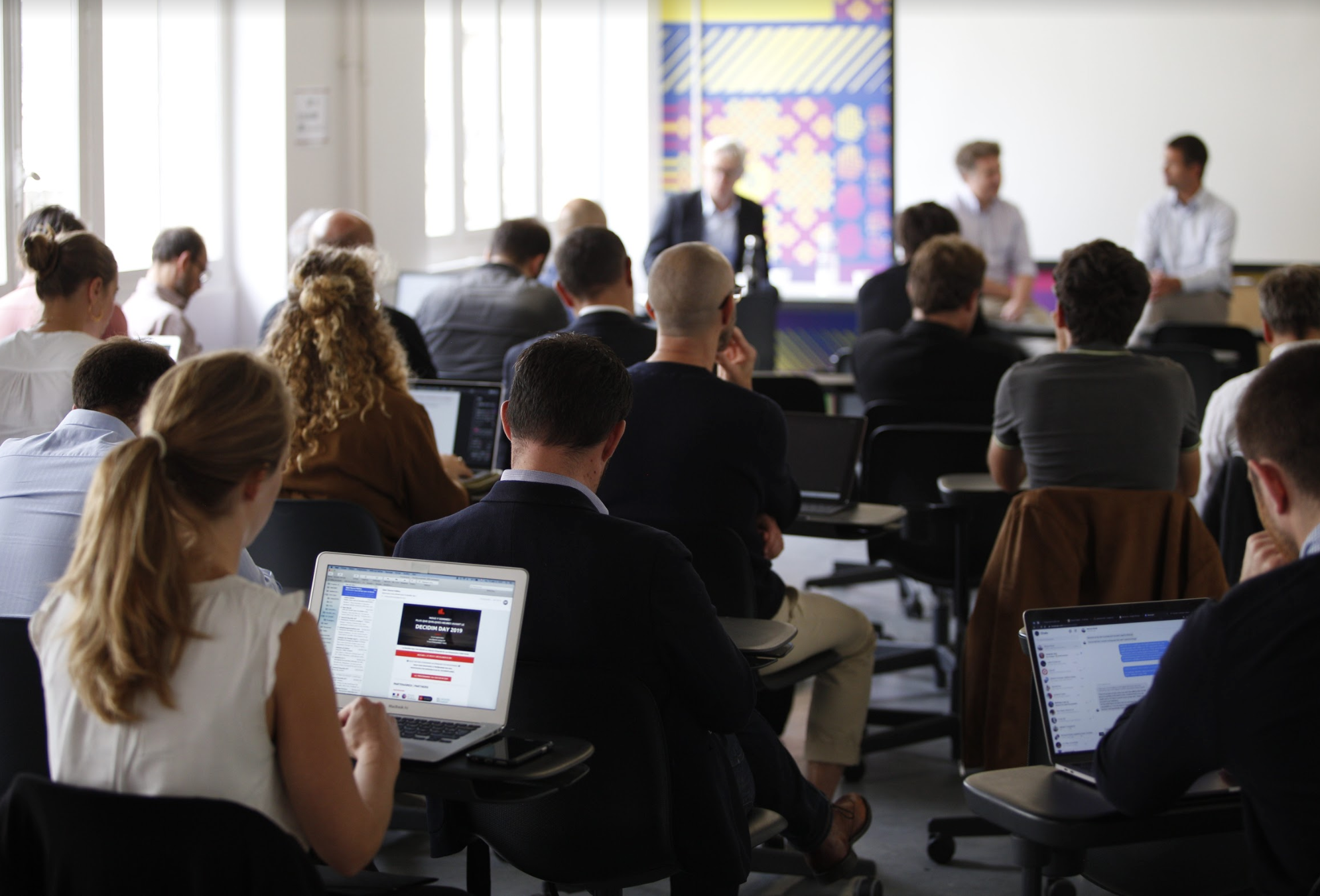 A few thoughts...
The risk of taking too unambitious steps is to create a pseudo-democracy that generates disappointment.
A digression from the round table, but an important point. Charles Felgate, Vision leader of Decathlon United, mentioned it during his testimony at Decidim Day: a company that is not liberated and that does not, therefore, include stakeholder consultations in its strategic orientations is not sustainable. Finally, integrating these democratic principles (transparency, accountability, equality...) within a company sends several positive messages to the outside world: a competitive advantage even a necessity for a sustainable business.
However, as mentioned by Loïc Blondiaux, the risk of talking about strategic benefits for the company (competitive advantage or better sustainability) is ultimately to establish a pseudo-democracy. Indeed, are we really talking about democracy or is it a choice on the part of top management to establish a system of democratic principles à la carte? In the same way that CSR operates on a logic of soft lawAre democratic principles only used to benefit from a better showcase and competitiveness without guaranteeing a profound cultural and structural change?
Moreover, there is no discussion of democracy without questioning the new balances of power. It is on this question that Thibaud Brière reacts by comparing today's enterprise to an "enlightened aristocracy". Indeed, how to balance the place of shareholders versus the voice of employees? As indicated by the EchoesThe PACTE law "entrusts the shareholder with the supreme responsibility for defining the company's purpose and monitoring its consistent and sustainable implementation. "Therefore, what real normative definitions can we give to a corporate "democracy" if the distribution of powers is not equal?
A "one-shot" approach reduces good intentions to a simple communication stunt.
Applying participatory approaches within a company and integrating a platform such as Decidim to carry them out must not result in a "one shot" approach. Using Decidim to co-construct a vision, a culture or to establish a governance platform is a continuous process that requires a culture ready to innovate. In other words, applying a "corporate democracy" is not a "simple innovation" in project management integrating democratic principles a la carte but must be a new form of management inspired by them. 
Involving more democratic tools and processes within one's organization must therefore go beyond a simple communication stunt, although these approaches remain an important way of communicating on the innovations implemented within the company in order to further involve stakeholders in its future orientations.
The larger the company, the more thought must be given to decentralising consultations.
The company needs to think about open innovation processes and the methods of collective intelligence and agility that best suit its size (large groups, companies going to scale...).
It is more difficult to conceive of a real economic democratisation in large companies or companies going to scale because their backbone remains the vertical hierarchy that has been set up. However, as Rudy Cambier pointed out, size is far from being a fatality for adopting open innovation methods because any mass consultation dynamics can take the form of decentralised consultation nodes. These nodes in this case are not defined by the different departments but rather by transversal teams.
As the speakers pointed out, "there are obviously the experiences of liberated companies that are a reference, but they remain marginal". Practical cases of real intelligence and collective action emanating from massive consultations remain rare but do exist and different approaches should be highlighted to carry out exercises such as these. 
Finally,
We've been talking about corporate democracy so far, but... it would be interesting to study the reciprocal If this corporate culture changes sufficiently to accommodate more democratic processes within these strategic orientations, what impact will this have on the notion of democracy? By what approach can we consider corporations as a "political entity"? Does the citizen have a role to play in the future of social enterprises as they have a direct impact on the socio-political landscape of a society?