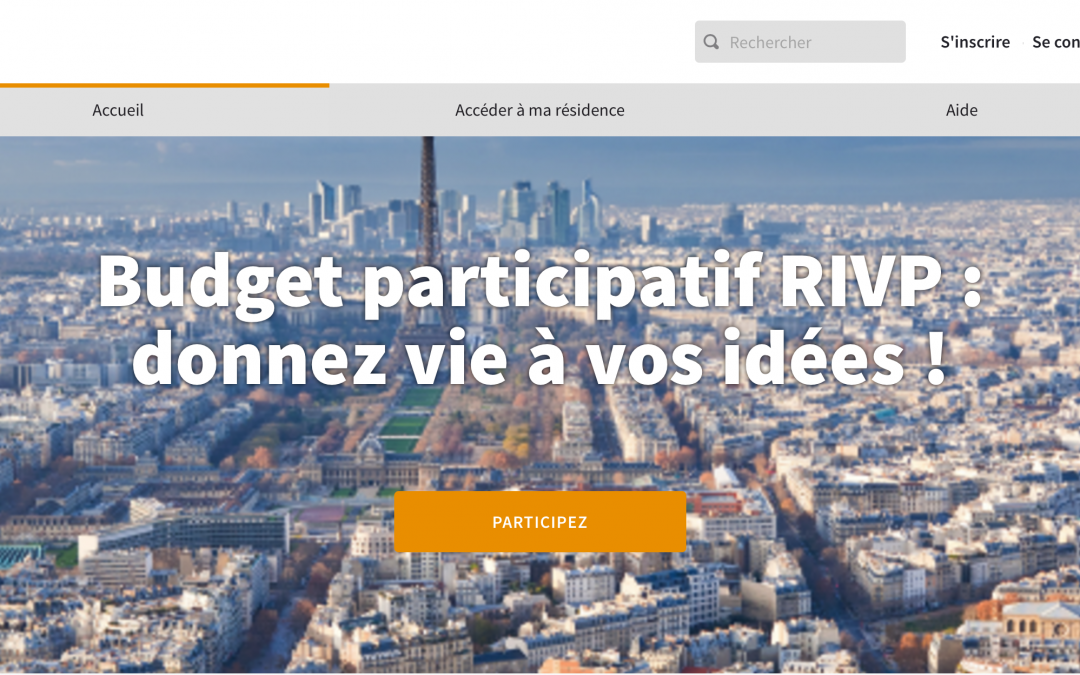 Feedback on the success of the first participatory budget of the RIVP
A discussion led by Noe Jacomet with Fabienne Boutier (RIVP), Samuel Thyrion (Copas) and Valentin Chaput(OSP) to take stock of their collaboration to create the first participatory budget of the Régie Immobilière de la Ville de Paris, by adapting the Consul platform developed by the city of Madrid.
Where does the project come from?
Valentin Chaput: The Paris City Council has been running an annual participatory budget for four years. During the third edition, they realised that there were people who lived in social residences affiliated to the Paris City Council through the intermediary of landlords, who had projects that concerned the residences and not public spaces. This gave rise to the idea of asking these social landlords to participate in the participatory budget (Élogie-SIEMP, RIVP and Paris Habitat). This is how the RIVP decided to launch its participatory budget, by calling on service providers experienced in this type of approach.
Fabienne Boutier: The RIVP is what we call a semi-public company of the city of Paris, which means that its main shareholder is the city of Paris (80%). It was therefore legitimate for it to want its social landlords to follow its lead in terms of participatory budgeting. However, there is a second element that pushed the RIVP to launch this project: the citizen's opinion written in February 2016 following the citizen's conference on improving the quality of life in social housing in Paris, the conclusion of which was that the inhabitants wanted more consultation and listening.
Samuel Thyrion: As far as Copas' involvement is concerned, we won a call for tender from the RIVP. The city of Paris having launched its own participatory budget since 2014, there was an institutional desire for social landlords to adapt to this type of problem. On the other hand, the RIVP was already offering a support fund for local initiatives. It was therefore an opportunity to experiment with another way of exchanging with their tenants.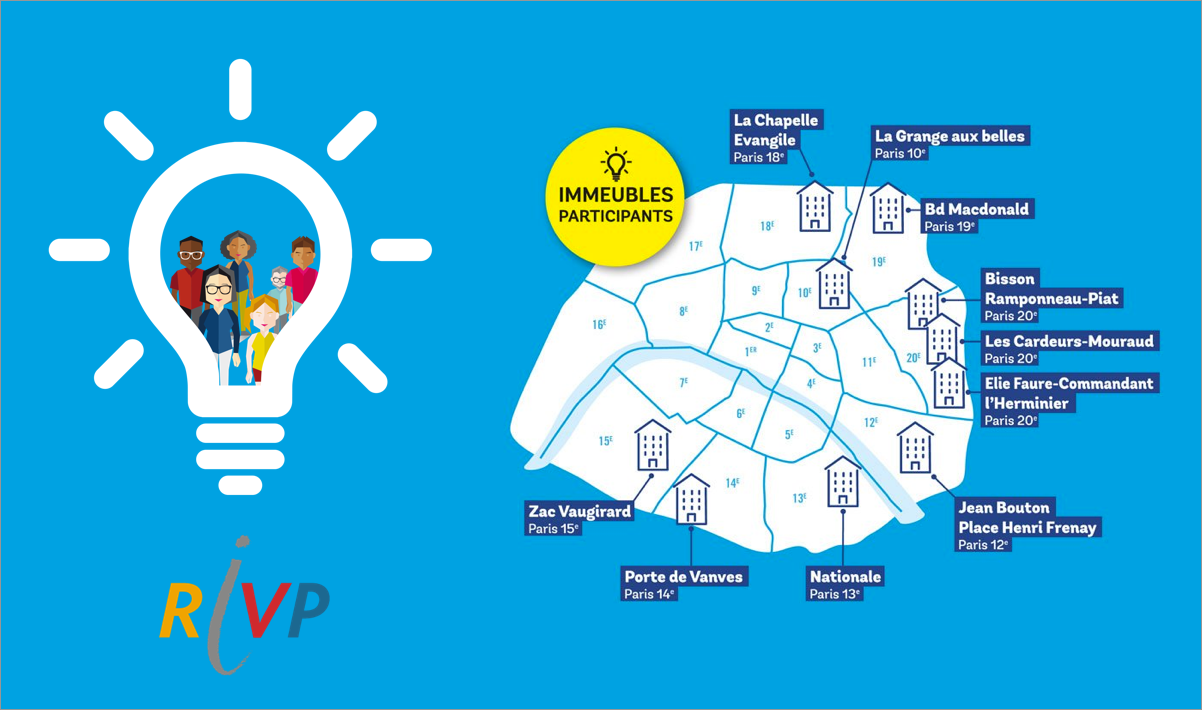 What consultation tools already existed?
ST: There were only information tools. In fact, apart from this support fund, there was no civic tech platform for consultation, nor any field worker on the part of the RIVP.
FB: We had mainly institutional communication tools, mainly through posters, but that was the end of it. On the other hand, we were already making the beginnings of consultation, similar to a form of participatory budgeting, in the residences where the RIVP undertakes rehabilitation work, in order to try to involve the tenants more and to consult them in the context of such operations. During this type of project, we also call on companies capable of providing us with project management assistance (AMO) to lead the consultation, as Open Source Politics and Copas did on this one.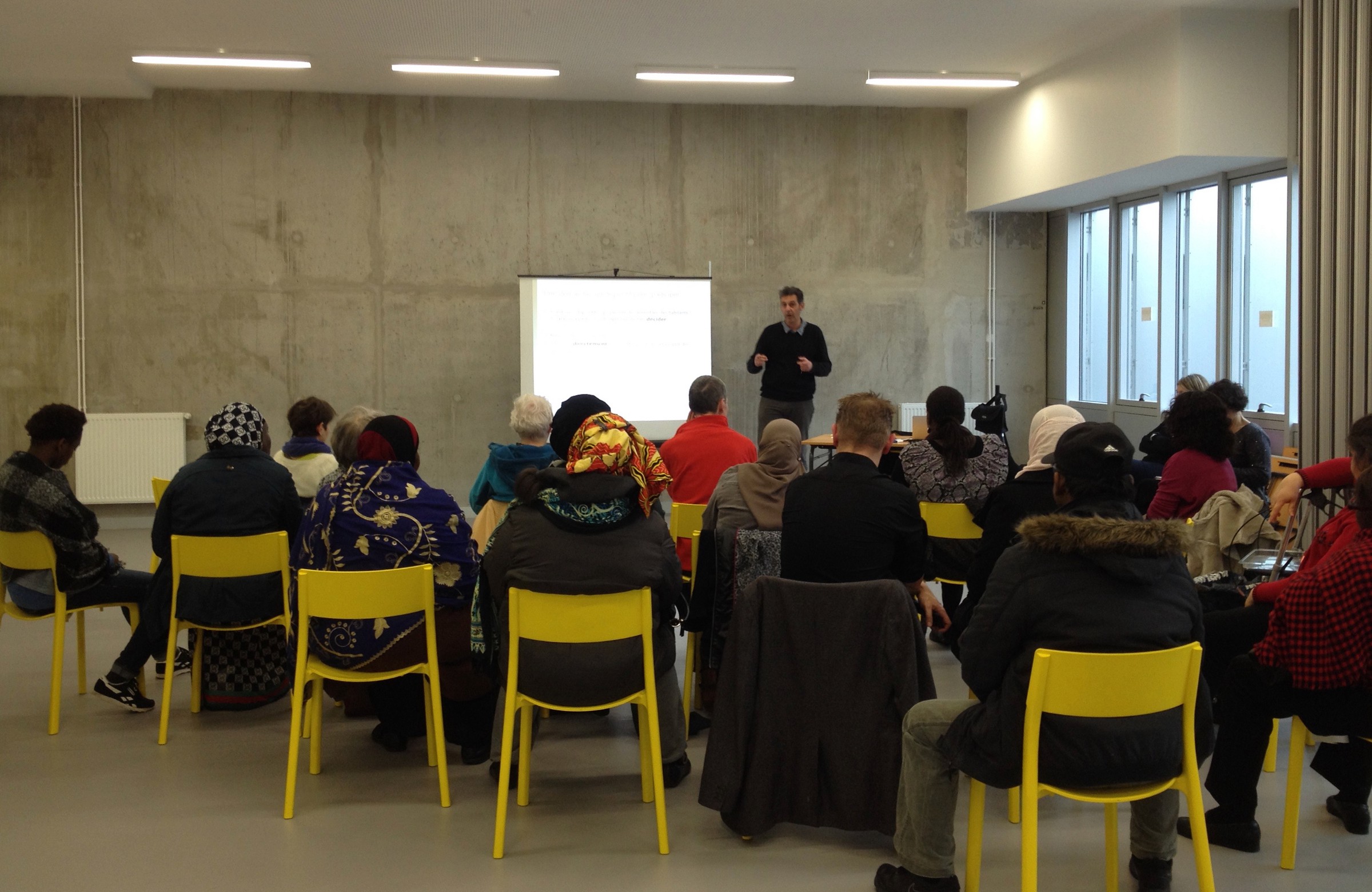 How does the digital platform complement these tools?
ST: What the RIVP was asking for was that the solutions proposed by Copas and OSP should take care of the entire participatory process. The platform was a tool for providing information on the holding of public meetings, presenting the way the participatory budget works, submitting ideas and projects, commenting on them, etc. From the outset, the specifications were quite clear on the fact that it would be necessary to use several modes of communication.
VC: As far as Open Source Politics' involvement in the project is concerned, it was Copas that proposed a collaboration to set up a digital tool to support the participatory budget. We had been working for several months with Hugo Barthelemy to adapt Consul, an open source civic tech platform developed by the Madrid City Council. This was our first opportunity to use the tool outside of the Spanish-speaking world, and it worked out well because we were able to use Consul as a centralising tool, not only for ideas submitted by tenants, but also to provide information on the voting phases, meetings, etc.
How were the themes defined?
ST: We had quite simple criteria, based on the standard categories of a participatory budget, namely: living environment, solidarity, social link and micro developments. So when we were faced with a project, all we had to do was to ask ourselves whether it corresponded to one of these. On the other hand, this type of approach also aims to respond to collective and not individual needs. The projects also had to be initiated by a tenant or a group of tenants with the support of a local association. Finally, the projects had to be coherent with the allocated budget.
FB : From the beginning of the reflection, we defined two types of projects that could be included in the participatory budget: social link projects and small-scale development projects (a thermal rehabilitation or a facade renovation are irrelevant because they have different budgets). We also carried out a benchmark with Élogie-SIEMP, which had carried out a small-scale participatory budget. This is how we came up with the four categories mentioned by Samuel.

How did it work at the operational level?
ST: The project followed a fairly classic organisational model, with an initial RIVP steering committee in which Copas and OSP systematically participated. Each of these meetings corresponded to key stages in the implementation of the participatory budget, for example to validate the rules of the participatory budget. We then organised and facilitated ten public information meetings, during which 140 proposals were registered on the platform. These meetings were followed by co-construction workshops, allowing the proposals to be refined, then by a budgeting process, in conjunction with local associations, and finally by a voting phase from 20 September to 2 October.
FB: For my part, I mainly supported the project from a logistical point of view (organising meetings with residents, sending letters, managing posters, booking rooms with partners, etc.). One of the first steps, for example, was to hold information meetings with caretakers and residence managers. There was a lot of work to be done internally, to make the link with the departments concerned (communication, ISD, general resources, etc.) and externally with Copas and OSP, to validate the proposals, prepare the meetings, etc. We also had to contact local associations to support certain residents who had submitted ideas but could not necessarily carry out their project alone.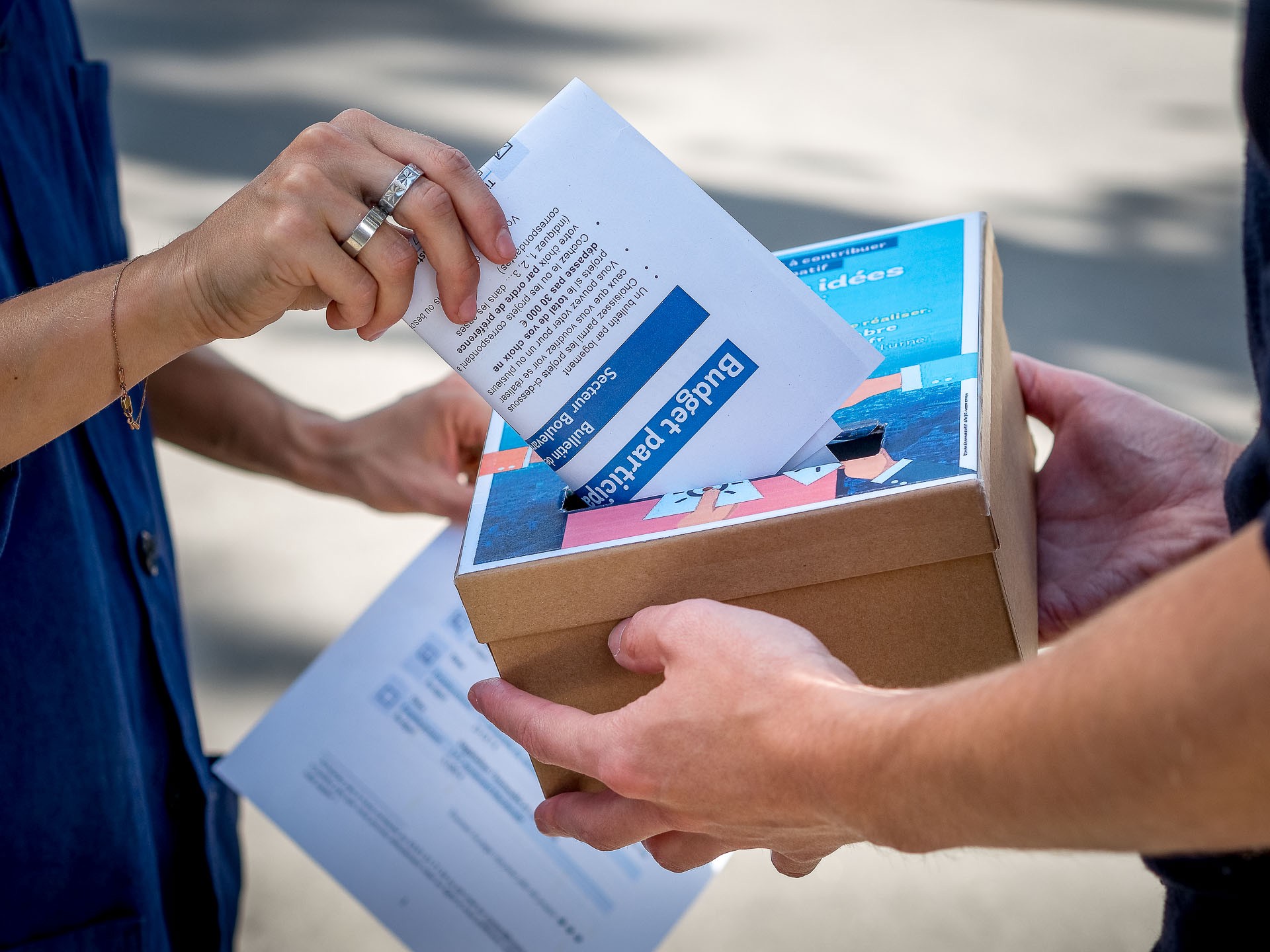 Is this experiment reproducible?
ST: Yes, under certain conditions. We have implemented this participatory budget in a rather tight schedule. Ideally, more time is needed because the logistics are very important (edition of ballot papers, deliveries to the guardians, ballot boxes, etc.) and sometimes time consuming! As far as the organisation or institution behind the process is concerned, it needs to be very available to carry out rapid validations, because once again, a participatory budget is a complex process that requires a lot of time and attention.
VC: In theory, yes, but this raises a few questions: how can we best reach the audiences concerned, who are sometimes not very digitally inclined? How to weight the proposals of the tenants? What are the standards for the voting system? For landlords, how can they internalise a larger part of the process in order to extend it?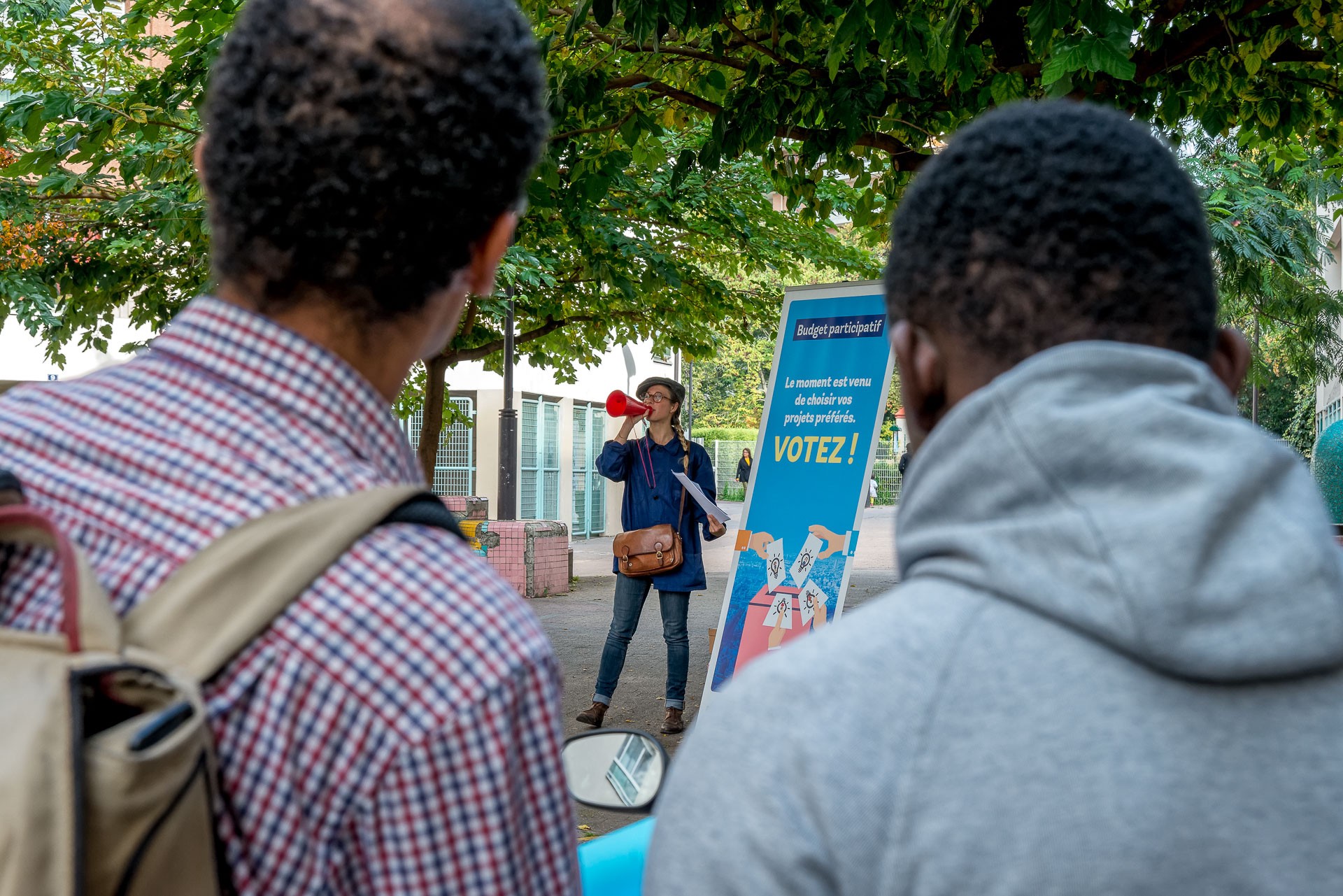 What lessons have you learned from this experience?
ST: I think that the field cannot be improvised, it requires mediation skills, argumentation skills, explanation skills, adaptation skills and animation skills. We have sometimes had to deal with disgruntled tenants because of other concerns. So you have to be able to stand back and be educational. Another important point is the complementarity brought about by the fact of having both a digital platform and doing face-to-face work in the field, we have to play on that and it is the whole system that has to be developed.
VC: On the platform side, we were fortunate to have a lot of help from the Madrid community, which creates Consul. Its members were always available to answer questions from our technical team. These exchanges also enabled them to perfect their tool, as we had to test Consul a lot to adapt it to the local context. We were also delighted with the results, which exceeded our expectations: 14% participation in this first trial, which may seem modest but is in fact quite high for this kind of approach.
FB: Internally, I think that a project of this type must be supported and affirmed to all the employees as a structuring project for the company. As far as the residents are concerned, they were generally interested in the approach, but it was a bit foreign to them and they therefore sometimes needed strong support. On the other hand, some caretakers were afraid of having to do extra work, probably because we did not have enough time to teach them. We are now entering the phase of carrying out the projects. This will allow us to learn new lessons.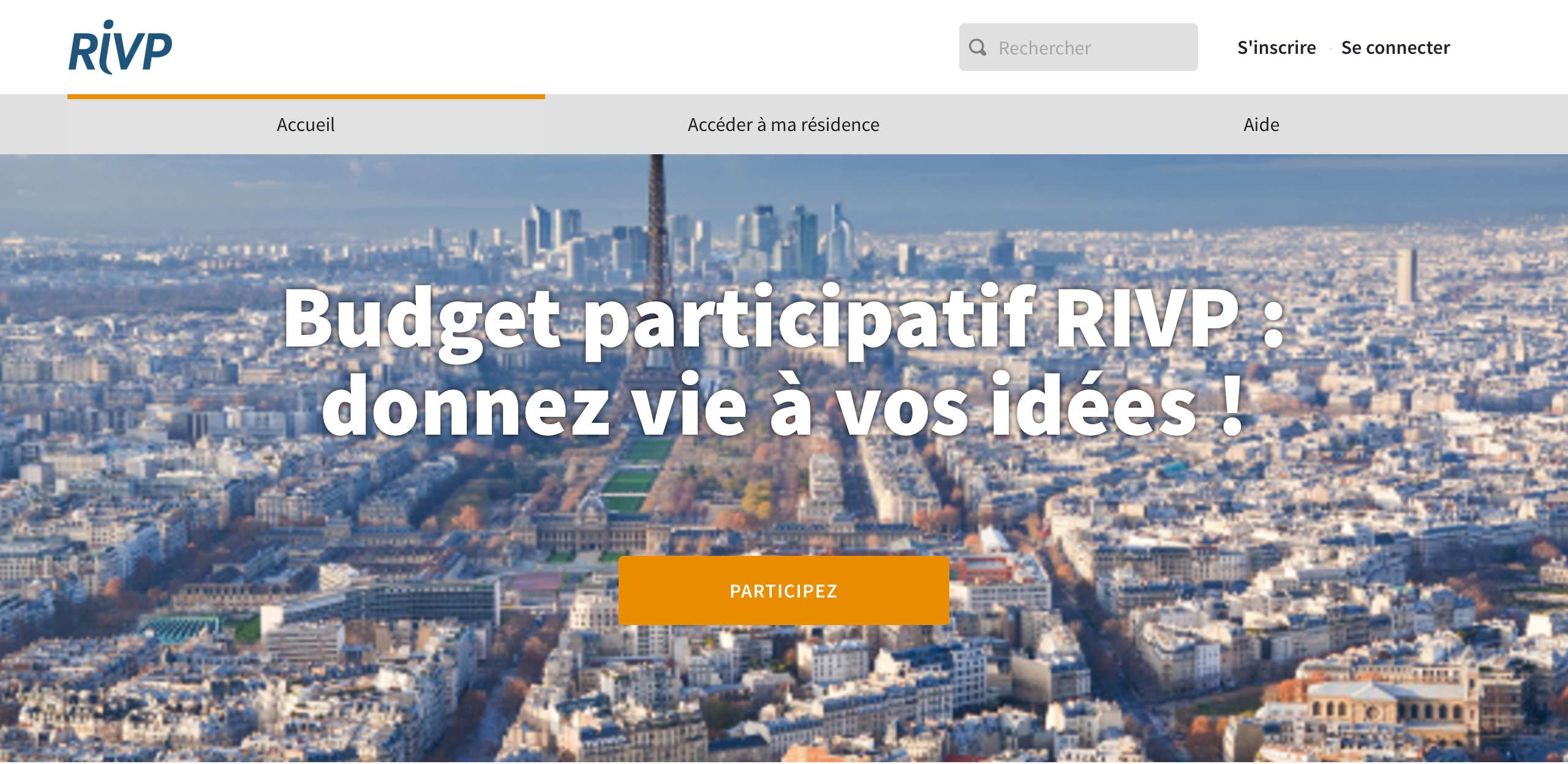 What are the interests and challenges of such an approach?
ST: One of the interests of the approach is that it gives credit to participation. The participatory budget is very concrete and gives effective power to tenants. The major challenge is to mobilise people. The concrete aspect allows it and on the other hand it is a relatively short process with quite clear phases. There are also internal issues for the organization that is carrying out the project. We have to realise that this is a truly transversal project. It has an impact on all areas: in our case, the RIVP's communication services were as much affected as those of the information systems department. Participatory budgets are really meaningful mechanisms, but they require a variety of skills and a certain agility in terms of organisation.
FB: For the RIVP, the major challenge was to develop new modes of communication, to reach out to tenants... But it is true that this implies internal changes for structures such as ours, in addition to in-depth reflection on the best way to reach these audiences, who are not all familiar with digital technology or this type of approach.
Contact us if you want to get involved in a consultation process using civic-tech tools!