Paris Ensemble
OSP created the participatory platform of the list supported by Benjamin Griveaux (LREM) in Paris. This Decidim platform offers Parisien.ne.s several ways to participate in developing a programme for the City of Paris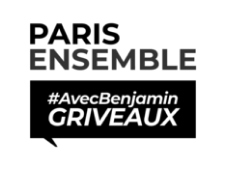 Client: LREM Candidate Benjamin Grivaux
Launch date: September 10, 2019
Platform URL: https: //decidons.ensemble.paris/
Type of project : Program co-construction
The Project
As part of his candidacy for the Parisian municipal elections of 2020, Benjamin Griveaux submits his ideas for the City to a vote by Parisian.ne.s and invites them to participate in the development of his program by contributing on the dedicated Decidim platform.
Keys to success
Every week new proposals are submitted to a vote.
Parisien.ne.s have the opportunity to propose new ideas for Paris across 6 main themes.
The particularity of this platform lies in its division of the city of Paris into 240 districts, allowing citizens to express themselves on local issues.
The locations and dates of citizen participatory workshops are also visible on the platform.