Participater Vendée 
The joint association of the e-collectivités Vendée provides all the communities of Vendée with a shared Decidim platform.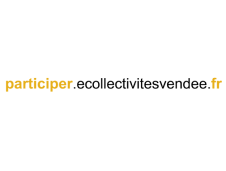 Client : e-collectivités of Vendée
Launch of the platform: May 2019
Platform URL:  
https://participer.ecollectivitesvendee.fr
Type of project: Concertation, consultation, calls for proposals
The Project
As part of a project to develop digital tools and their usage, the joint association of e-collectivities wanted to set up an online platform for local authorities in the Vendée region.

The platform makes it possible to organise consultations with citizens, surveys and votes, calls for projects to support innovation, idea boxes to stimulate creativity, or even to launch a participatory budget in order to allocate a budget to projects chosen by the inhabitants.
Keys to success
A single platform for several communities
A possible management by each community
Neighbourhood meeting directories and maps
See more projects
More than fifty organizations trust us