Assembly N
ationale
Open Source Politics accompanied the National Assembly in two digital citizen consultation projects in 2017 and 2019.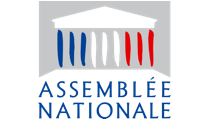 Client: National Assembly
Launch date: October 2017
Url of the platform : https://consultation.democratie-numerique.assemblee-nationale.fr/reussirlatransition
Type of project: Citizen consultation, synthesis
The Project
Before 2017, the National Assembly had already experimented with online questionnaires, but the project "Digital Democracy and New Forms of Citizen Participation" was the first open consultation it conducted.
In March 2019, Open Source Politics once again accompanied the National Assembly in a second digital citizen consultation: "Lifting the brakes on the energy transition".
The Open Source Politics team also produced the summaries of these two consultations.
Keys to success
Communication, particularly on social networks, supported throughout the consultation.
The summary will be put online one month after the end of the consultation.
The possibility to consult andanalyse the consultationdata on the open data portal of the National Assembly.