Decidim, a web platform
A software for

any actor

eager to engage in a 

participative approach

.

Online platform

that allows the set up of

participatory processes 

through its

numerous functions.


Examples: participatory budget, debate, contributation space (allows users to "post" contributions), questionnaires/forms, etc. .

Allows organizations to have a digital tool dedicated to participation.
"The Decidim platform ("We decide" in Catalan) is one of the most emblematic projects in the ecosystem of civic technologies. Born in Barcelona and initially financed by the municipality, it is built since its origins on the model of a common. The source code of Decidim is made available under the following license GNU GPL, which allows the reuse and evolution of the program as long as you share the identical modifications. But Decidim goes further by adding to the licence clauses, the adhesion to a social contract, setting out the additional "democratic safeguards" that must be respected when using the platform. »
Free and open source software
Everyone has the opportunity to

adapt 

the software, 

improve it

or

analyze

its code.

Promise of greater

quality

(continuous improvement), greater

security

(the code can easily be tested and corrected) and total

transparency

.

Enables the development of a more 

open

and

participatory democracy

.

Builds trust: data management, transparency, etc.
Participatory budgeting, consultation forums, calls for ideas, referendums... the digital platform offers all the usual participation solutions, but it has the particularity of being part of an approach of "digital communities", designed under a free licence, i.e. their code is open. A guarantee of transparency for its creators, and also a means of pooling the tool, which can be copied free of charge and improved by other players, as part of a "social contract".
Service offering
Our technical and consulting teams will help you:
A solution certified by :



Installation, configuration, adaptation
Quantitative summaries
and qualitative summaries
Development
of new functionalities
Design of
your participative approaches
Animation and
mobilization
"Decidim is now asserting itself as a true digital commons. Proof of this is that a growing number of public players are using Decidim internationally (in France, Finland, Belgium, Mexico, etc.) and adapting it to their uses, also attracted by the great modularity of the digital platform and the range of participatory functionalities offered. »
Four areas allowing the creation of functionalities and content: Concertations, Assemblies, Initiatives, Votes, etc.
The

Concertations

are suitable for the establishment of a

temporally-bound participatory mechanism

with

steps

(participatory budget, classic consultation with collection/proposal voting for example, etc.).

The

Assemblies

are better suited to a

participatory governance

over a long period of time. It is also possible to create sub-assemblies and/or to link an assembly with a consultation.




→ Assemblies can for example be useful to set up a participatory mechanism within an organisation, allowing the creation of working groups/sub-groups via sub-assemblies.

The

Initiatives

are a space similar to a

petitions

(coming soon).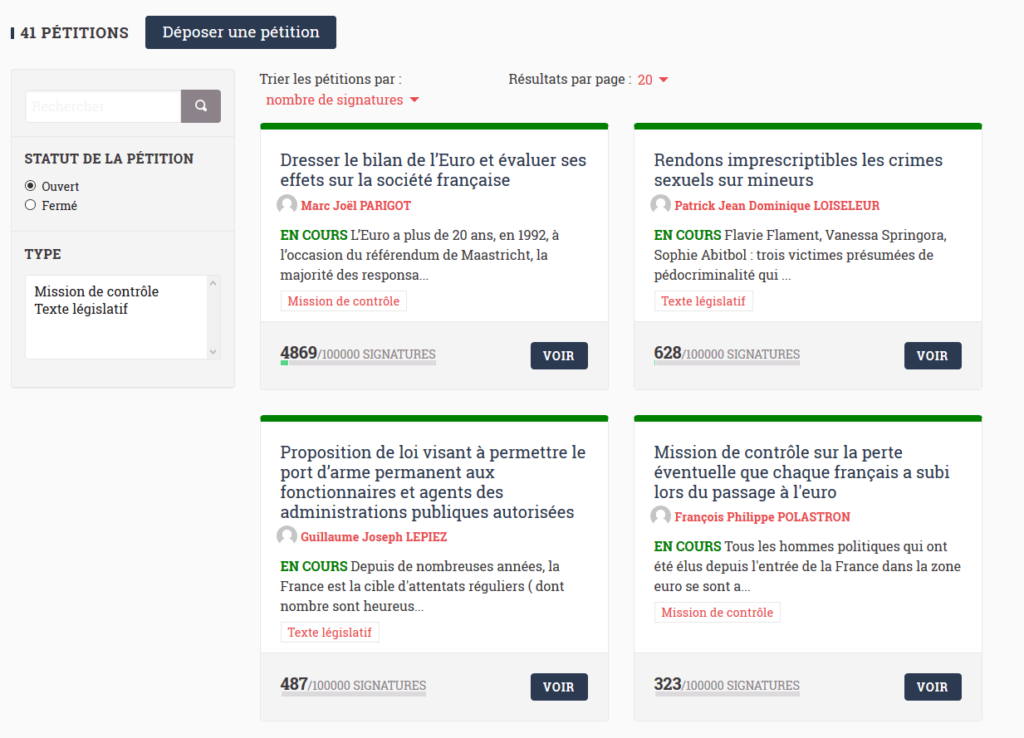 The

Votes

allow for the implementation of referendums (coming soon).

 

The

Conferences

allow you to enter information about a particular event in order to provide a maximum of detail on the programme, benefit from a more developed registration module, etc.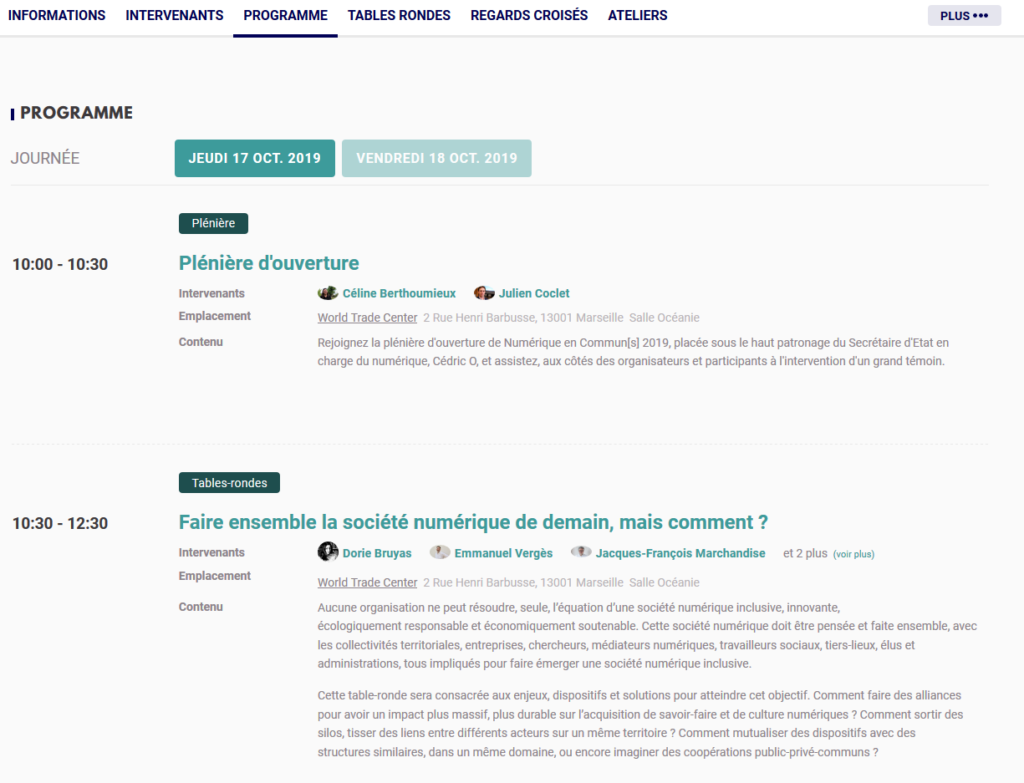 Numerous participation modules:
Proposal

: allows for the creation of a participatory space for users to post a contribution/idea/proposal; to vote for proposals; to support proposals (equivalent to the "Like" functionality); to comment on proposals; to filter proposals, etc.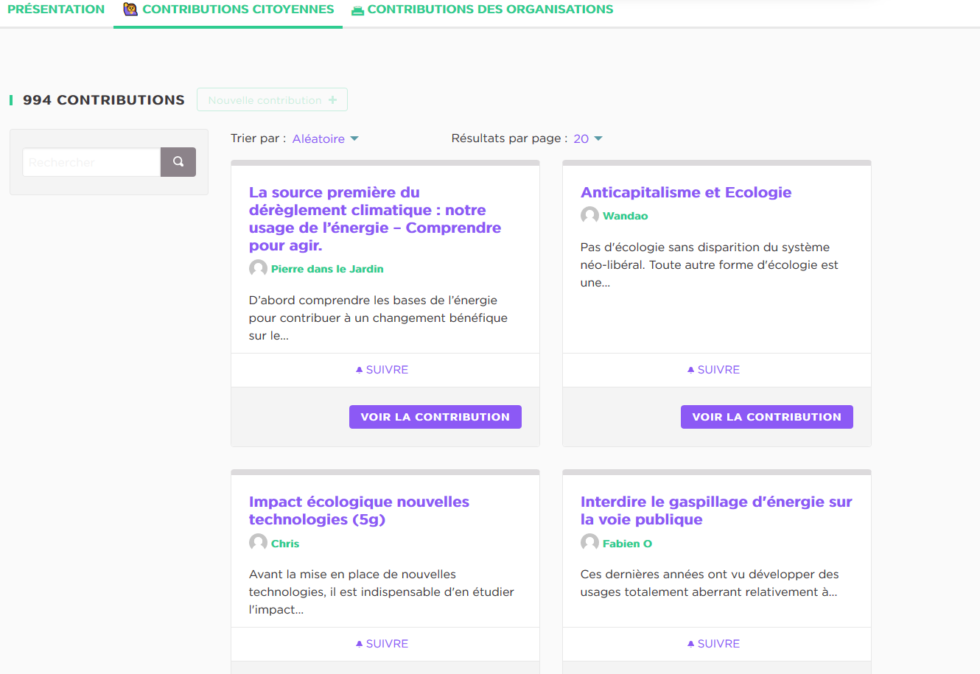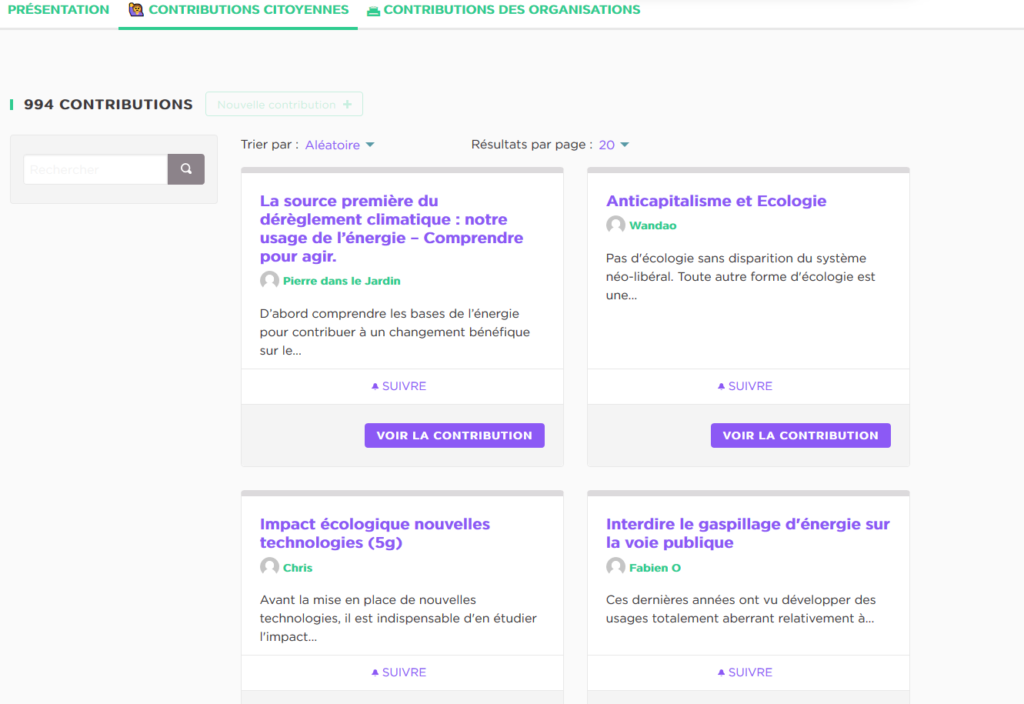 Meetings

: allows you to highlight an event (workshop, public meeting, debate, etc.) by indicating its date, location, description/objectives and/or by integrating visuals (posters, "flyers", etc.).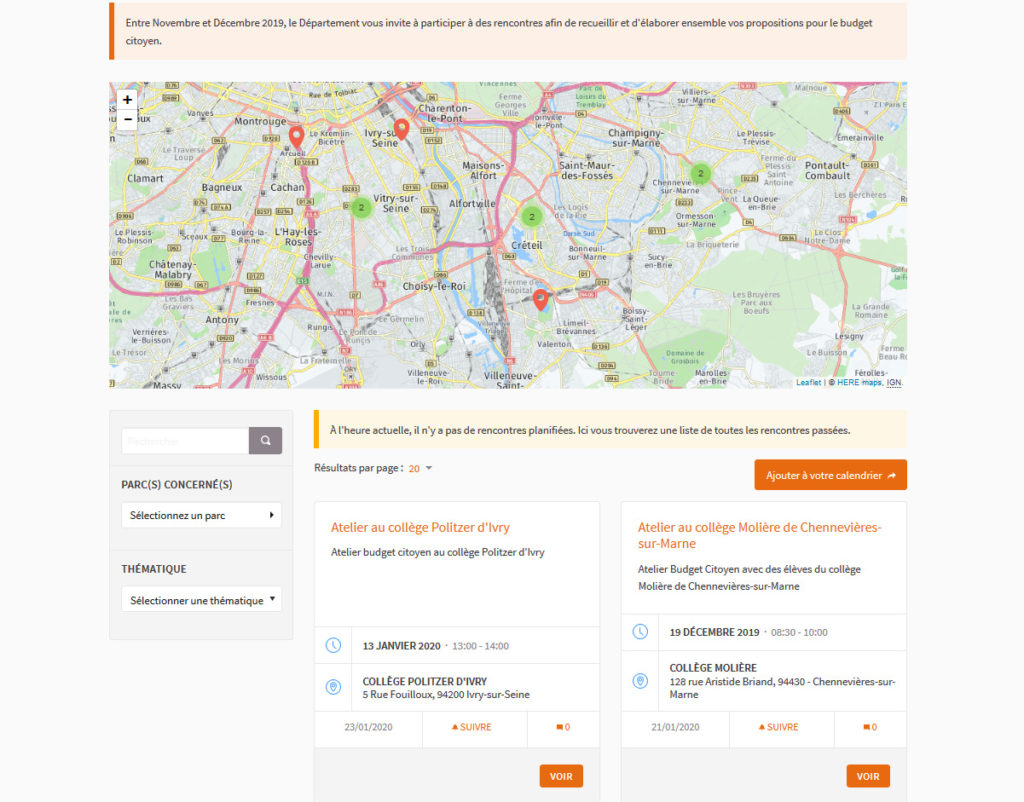 Survey

Create surveys/forms/questionnaires and choose how to answer them: single choice; multiple choice; short answer; long answer; sort in the desired order. This feature allows you to easily set up a registration form, questionnaire or survey that lends itself to the format.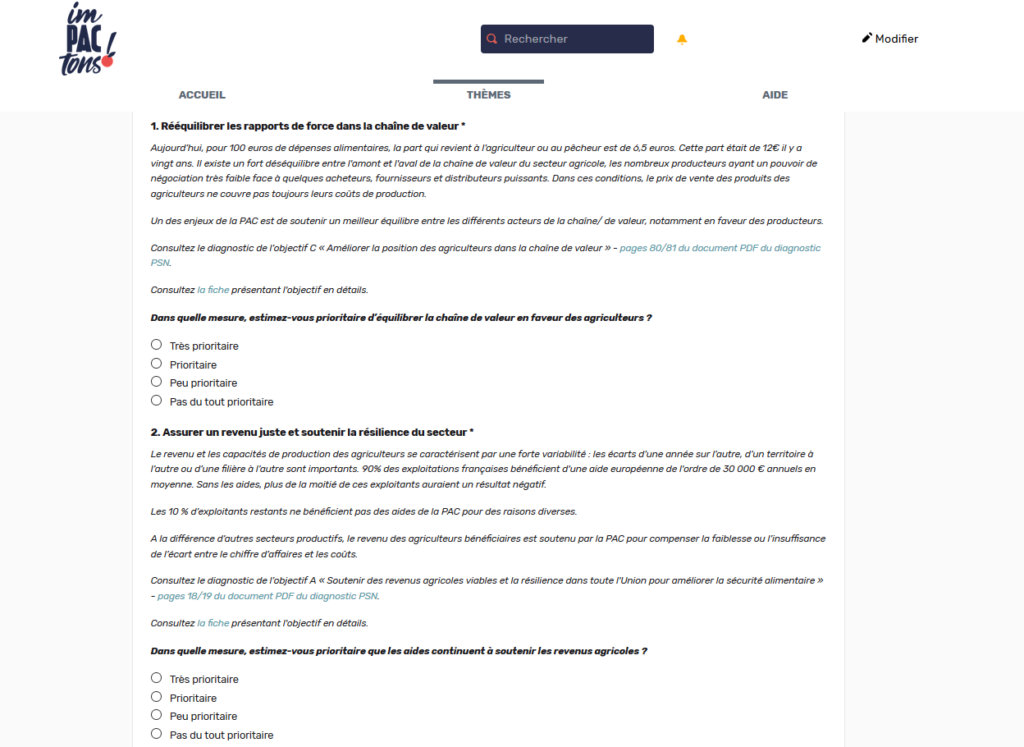 News

: allows you to organize a "blog" type section on the platform, allowing users to comment on the different articles and the administrators to communicate. 

Debates

: enables open debates initiated by the administrator and/or by users through a comment thread.



Budgets

: enables the set up of a participatory budget after a submission of proposals by users or by the administrator.

Users can thus vote for different projects, follow the budget and its evolution, etc.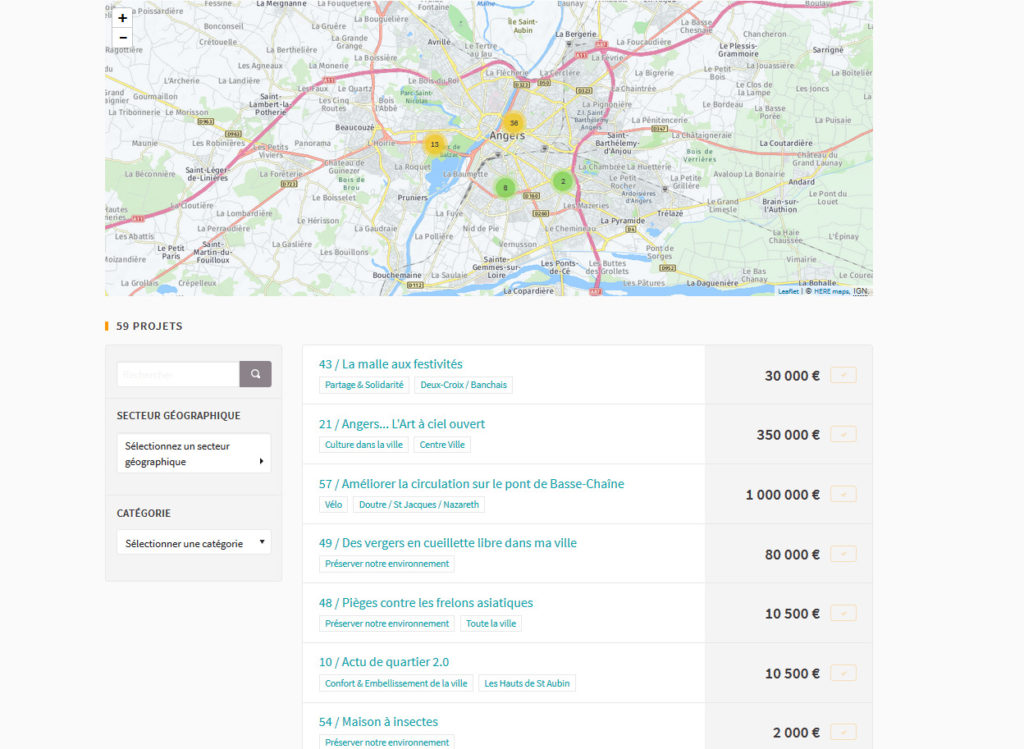 Page

Create and edit pages that inform the user about the platform administrator, the current consultation, the methods of participation, the objectives, etc.

 
Random selection:

allows you to draw lots for applications/proposals.

For example, it can be useful to create assemblies by random selection.




Example of the platform of the European Metropolis of Lille
Follow-up:

 The "Follow-up" functionality allows users to monitor the progress of implementation (overall, by category and/or by sub-category) of an action linked to a concertation.




Example of the Barcelona Platform
Functionality Details
Category

: allows the creation of categories and permits users to classify their proposals by theme (e.g. housing, environment, social justice, etc.).

Sectors

allows you to create geographical categories (e.g. by neighbourhood, district, etc.).

Pages

: allows you to create "cold pages" (FAQ, T&Cs, Legal Notice, etc.)


Advantages of the Decidim platform 

A social and engaging dimension: 

User profiles enables the development of a form of a social network, including the possibility for users to subscribe to a profile, exchange messages, create user communities, etc.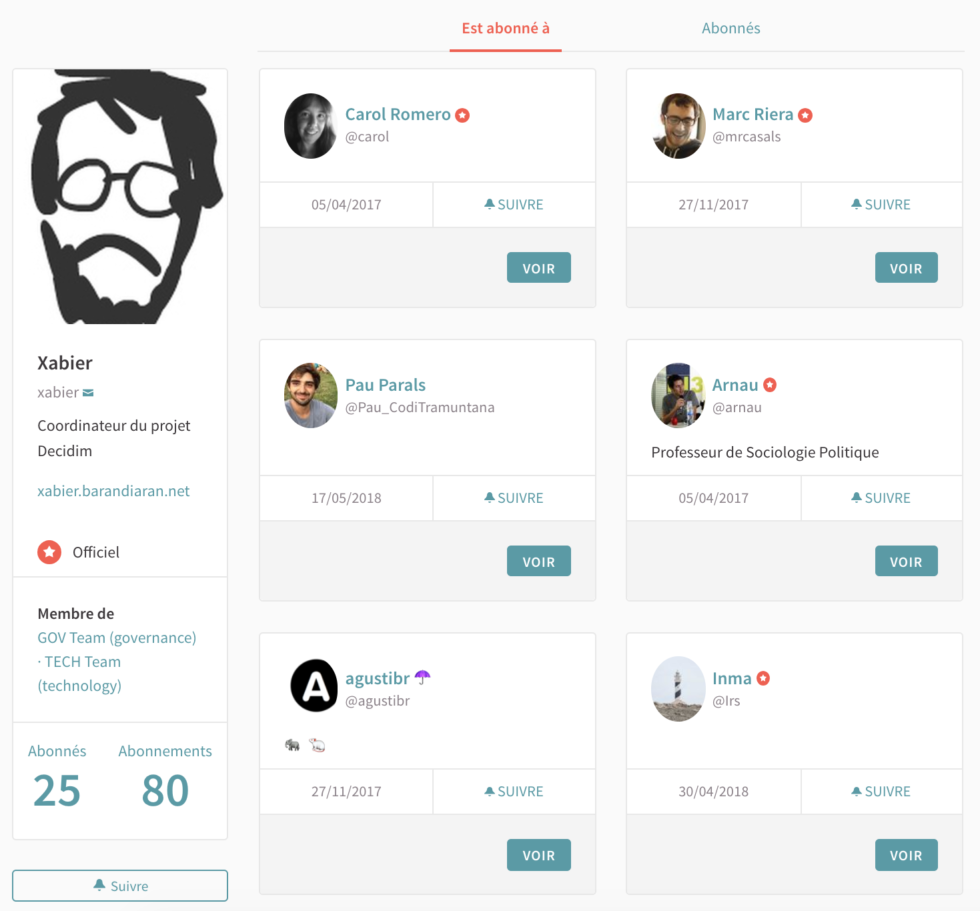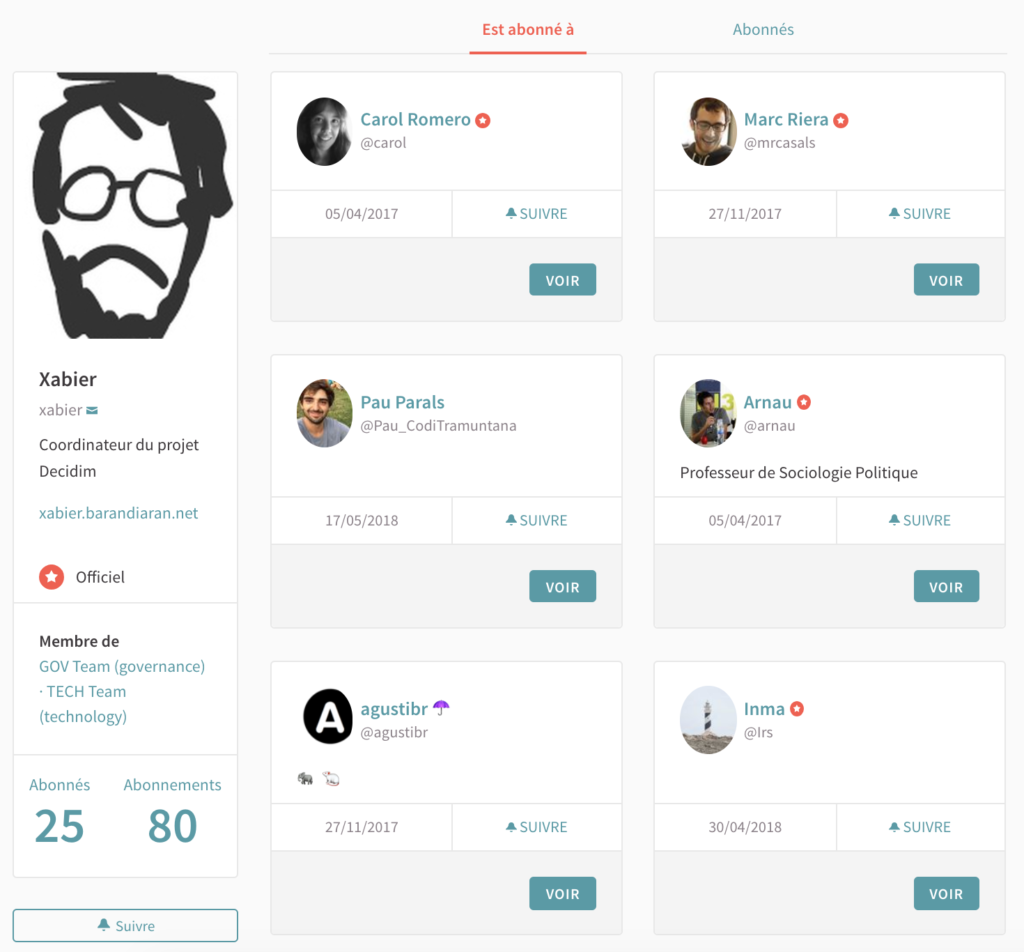 A transparent participatory path from the submission of an idea to its realization
A platform offering real traceability of participation through the proposal and follow-up modules. For each proposal, Decidim makes it possible to indicate its origin, whether it comes from a public meeting, an institution or a group of citizens.
A proposal on Decidim is living content that can be linked to other content on the platform: an investment project from the participatory budget, an achievement announced by an institution whose progress is monitored over time.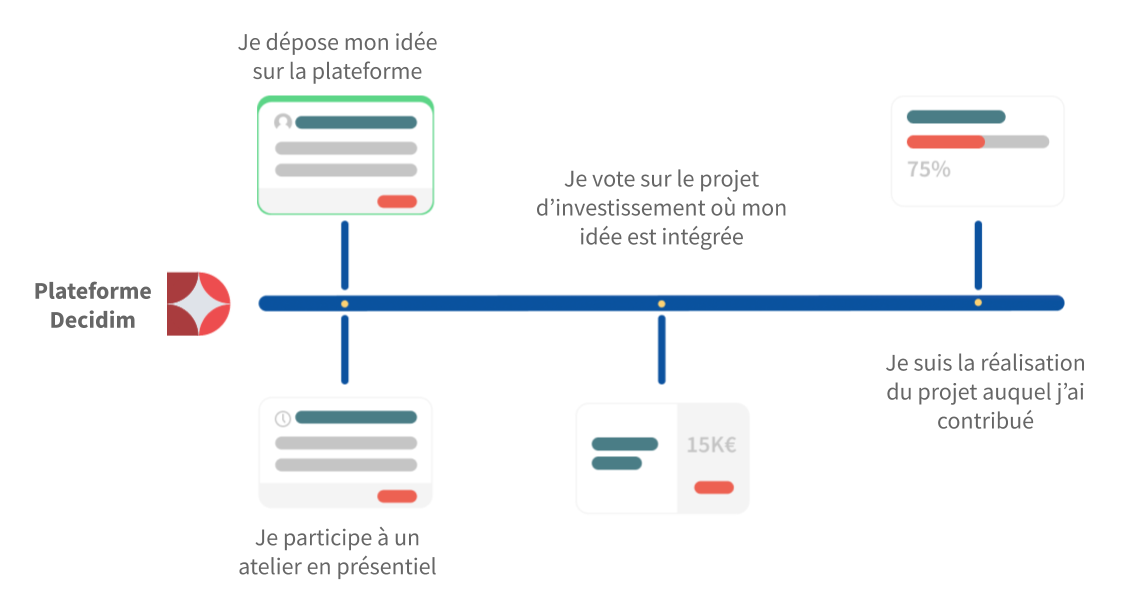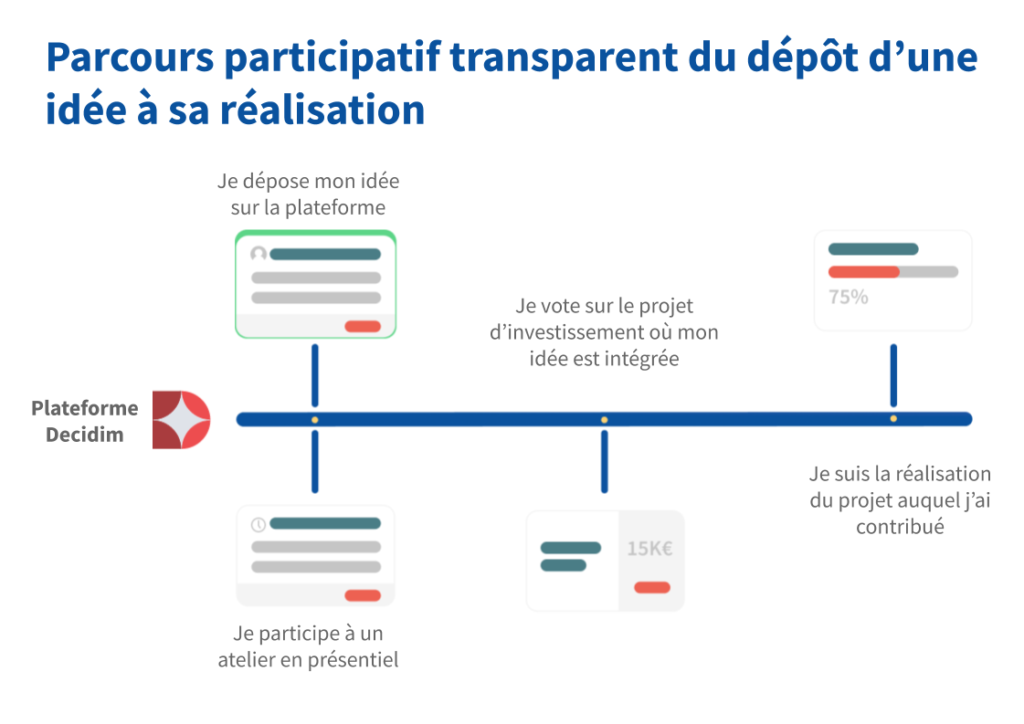 An inclusive and accessible platform through the combination of digital technologies and face-to-face interaction:
16% of French people do not feel able to carry out procedures online, 40% are worried about the idea of carrying out procedures online and 28% would like to be assisted in local establishments. This shows a real need to combine digital and face-to-face tools, in order to allow the greatest number of people to participate. Thus, the "represented user" function makes it possible to contribute on the platform in the name of a person, whether or not they already have an account. This can be very useful to include people who are not very familiar with digital technology in a participatory process, for example by collecting contributions in markets or during a door-to-door session.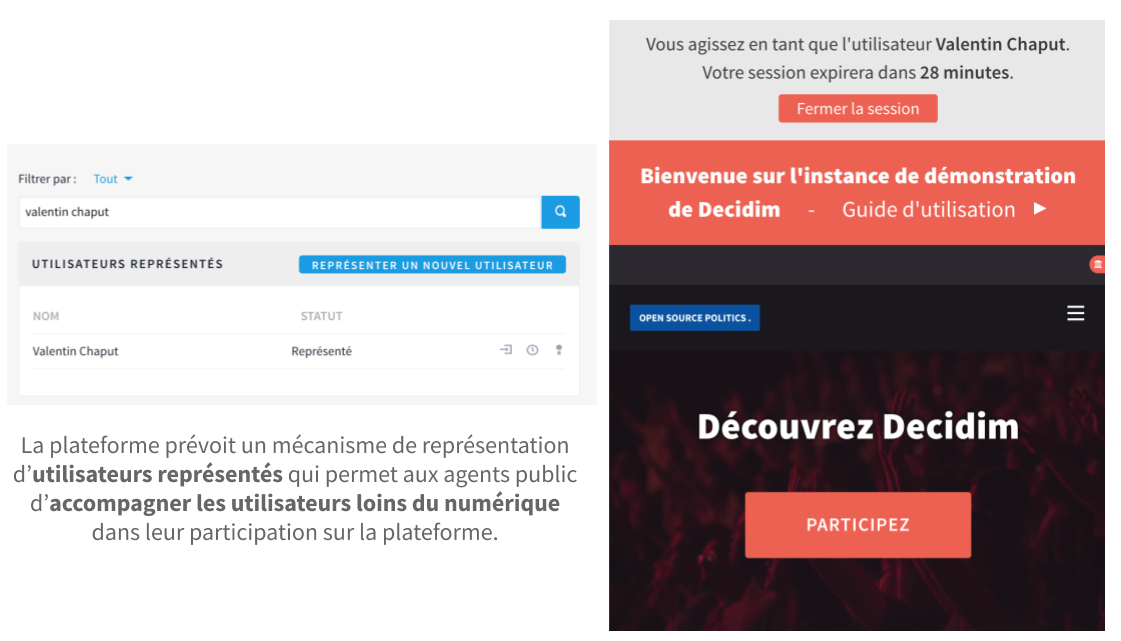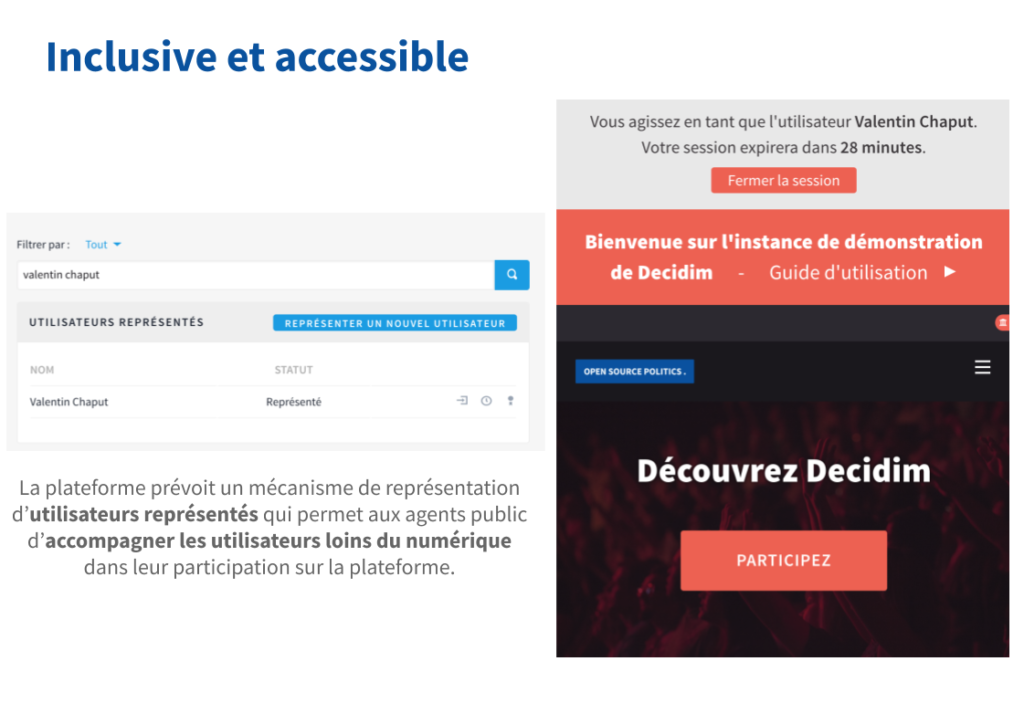 Convinced by Decidim?
Read our references and their detailed presentation pages.
Discover the specificities of each Decidim by OSP platform.