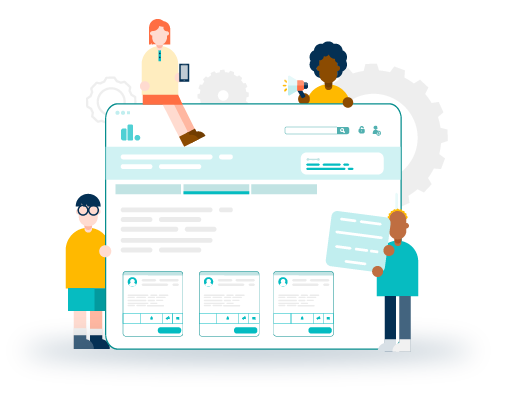 Are you looking for a meaningful work experience that will have an impact on our democratic system? The Open Source Politics team welcomes you for a concrete internship or work-study contract, in contact with pioneering approaches to citizen participation.
Presentation of the company
Open Source Politics is one of the French leaders in the growing civic tech sector. For more than five years, we have been supporting more than eighty institutions and major private players in their digital consultations and participatory budgets, thanks to Decidim(2nd prize for the most innovative open source project from the European Commission), the large-scale open source platform for citizen participation used in some twenty countries.
As a true ecosystem company, we defend with our partners in France and abroad a certain vision of digital participatory democracy based on transparency, collaboration, respect for privacy and accessibility.
If you are looking for a first Tech for Good experience, you have come to the right place!
Description of the mission
As part of a fast-growing team of 25 people and in close contact with our technical team of 10 people, you will join our data team with the mission of enhancing the value of citizen participation data. Thanks to the open-source software Metabase, you will help local authorities to better understand the participation on their Decidim platform.
You will be required to :
Develop functional expertise on the Metabase business intelligence software;
Set up dashboards to monitor citizen participation by working on several data sources (web traffic, emailing, Decidim database);
Writing and adapting SQL queries to create the indicators that will be imported into the dashboards;
Imagine the most relevant visualization formats for the different indicators;
Develop scripts for automating the import of data in TDD to facilitate communication between our various data sources and Metabase;
Participate in the improvement of data visualization and find relevant indicators according to customer needs;
Profile required
Qualities required
You have a first experience in data analysis / business intelligence or you wish to acquire and develop it;
You know how to work in an agile method with code management tools such as Github;
You want to give meaning to your work by joining a project that is part of the Tech for Good movement, which promotes free software and encourages democratic renewal;
Teamwork is for you. Communicating with others about your difficulties and ideas is part of the game;
You are curious and want to discover new tools and the latest technologies concerning Business Intelligence;
You are fluent in English.
The technical stack
Python 3: good command of the language (an overview of projects done in class/personal 😍 )
SQL: good command of the language
Linux / UNIX: knowledge of Bash
Git and GitHub
... whatever you want!
Form of contract and remuneration
Contract: end-of-study internship or sandwich course
Duration: 3 to 6 months
Availability: September 2021
Remuneration: legal + 50% of the transport ticket 
Possibility of employment or assignments at the end of the contract
Premises: Wacano Incubator, 14 rue Soleillet, Paris 20ème. Possibility of teleworking depending on geographical location.
Send your application (CV + introduction email) to baptiste@opensourcepolitics.eu