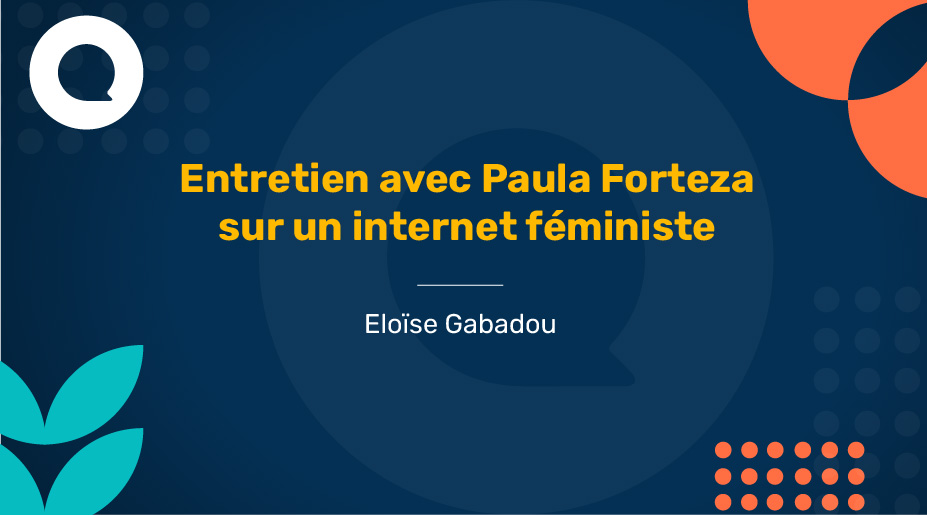 We had the pleasure of conducting an interview with Paula Forteza, Member of Parliament for the French abroad on 18 March, a few days after the International Day for Women's Rights. The theme of our interview: a feminist internet. 
This notion of feminist internet (or cyberfeminism) is a fundamental principle of the Decidim community; several initiatives have been taken to fight for safe spaces and against the gender bias inherent in a technological service (more details here). Please see our article on Digitalinclusion- a key issue for participation.
The movements to defend the digital commons and the feminisation of the internet converge on several levels: community empowerment, democratic principles at the heart of technological development, the ambition to establish safe spaces for discussion for all, technological non-determinism and the cultural layer to be provided...  
This article is a transcript of the interview.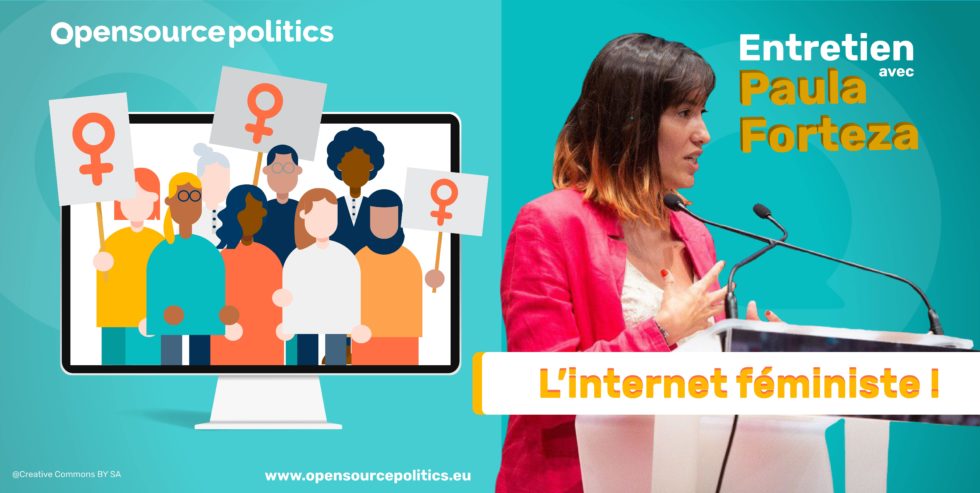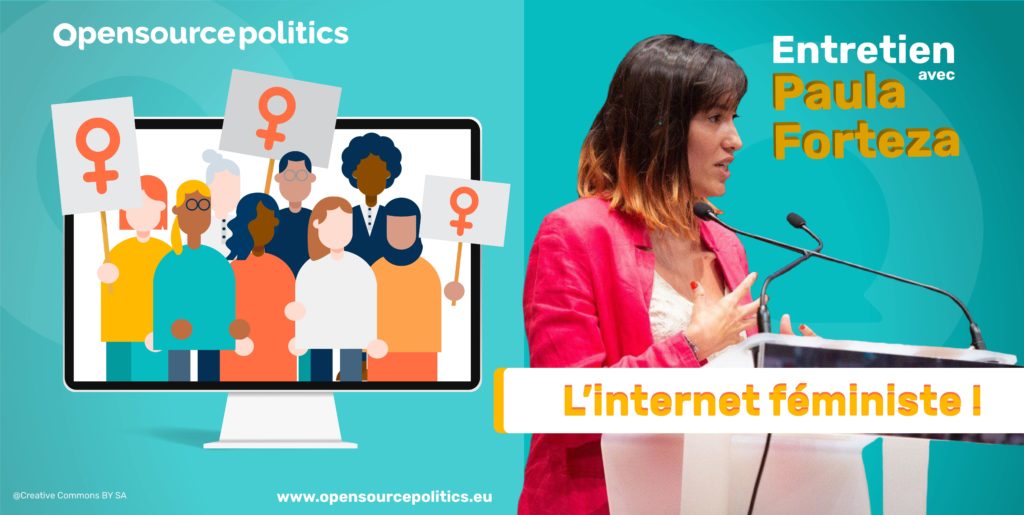 How would you define a feminist internet? 
A feminist internet must have at least 3 characteristics: 
The feminist internet must be a safe space where women feel secure, where they are not harassed. We know today that new technologies can facilitate gender violence at all levels and there should be a space where all this is taken into account.   
The feminist internet is a non-discriminatory space. Women or minorities are not invisibilised and the internet fights against gender bias. 
Finally, the feminist internet is an internet that empowers women. It should give new tools and spaces to women and feminist movements. The struggle of the latter has been amplified with online tools (social networks etc.) but they need to be given more space in the technological universe as well as in technology companies and online contributory spaces.   
How can gender bias on the internet be tackled if the population in the technology sector is very unequal? 
This is a fundamental question. Let's chart the percentage of women at Twitter, Facebook and Google. 
At Facebook, there are 68% men in the company, 77% men in senior management positions and 85% men in technical jobs, Source. At Twitter, there are 66% men in the company, 78% men in senior management and 87% men in technical jobs, Source. At Google, 69% of men in the company, 76% of men in management and 81% of men in technical jobs, Source.
In most cases, women in the technology sector are neither in technology-related positions nor in management positions, but very often in the communication area. This can be seen in several sectors.  
The example of Wikipedia is also telling: there are only 18% of women's biographies on Wikipedia in 2020 and these biographies are often shorter and less elaborate than those of men. They refer to family or relationship issues - the private lives of women - while men's biographies have more details about professional careers. This reflects an important reality about the platform's contributors: only 8.8% of women contribute to Wikipedia. 
It also reminds me of the applications developed by women to understand the menstrual cycle for example. These kinds of applications didn't exist at all before women started developing them. This is also what a feminist internet is all about: when there are more women coders, it will also give tools and services that are much more adapted to women's needs. 
I am convinced that it is thanks to women and female practitioners in this sector that the internet and technology will be feminised. 
How do you explain the natural convergence between this definition of a feminist internet and the digital commons? 
The link between the two movements is clear. A digital space that will be respectful, open, where we will pay attention to each other, will also be a space where everything is transparent, auditable, where we give space and power to the community. These are not hierarchical or centralised spaces but spaces of mutual support. Both movements come from a community logic. 
For example, to deal with online hate: the best way to moderate it would be to set up community moderation mechanisms, along the lines of Wikipedia. These mechanisms could lead to healthier spaces both in terms of what is said and how to deal with cases of cyber-bullying and online hate.  
There are also counter-examples to this.
There is not 100% technological determinism. There are certain platforms that emphasise their open code and a logic of code is law* - this is a first step. However, there is also a lot of human and cultural work that does not depend solely on code. 
Let's take the example of Github. A collaborative platform for creating code together that is in line with the movements we are carrying. Women did an experiment in which they posted commits (contributions) with men's names and then with their own women's names.
Commits were much more accepted when they were published as men. We can find the same logic in the world of gaming, which remains misogynistic at times and often closed in on itself. There are therefore two layers to consider: technological determinism and the cultural and behavioural dimension, which must be combated at another level.
On the digital commons side, when we theorise a bit too much and talk in the abstract, we can lose people with our jargon and references. The way to get the message across and show the impact and interest to people outside the sector is to give examples:
show that we can do a random draw on citizens' lists, or collect citizens' questions and ask them of the government, and still have the ability to audit the code of the technology and make sure that there has been no bias or rigging in the counting. These examples are important steps towards a feminist internet.
This struggle obviously goes beyond participation platforms.
The future of AI is now being written on historical databases.
Some examples to illustrate my point: 
If you type "baby" into Google, you will only get white babies. 
Finnish is a gender neutral language. If you write bits of sentences in Finnish like "X does the dishes, X goes to work, X looks after his child", the translation into French will give you the state of our current society by translating with a feminine or masculine pronoun. We need to renew the databases on which we base the future of our technologies. 
What could the public authorities do to enhance the value of women in these environments?
It's quite counter-intuitive because I'm a Member of Parliament and a digital expert, but I'm not necessarily in favour of over-legislating in the digital sphere. New technologies move much faster than the law. The law must remain global and based on technologically neutral principles in order to give the players room for manoeuvre to innovate and move forward. 
The public authorities must act at the source, on having more women in computer schools, for example. One idea that is not very popular in France is that of positive discrimination policies: quotas and scholarships dedicated to women should be considered.  
I was against quotas for a long time, because I didn't really want to be stigmatised and told that my place was only justified by my gender. But it doesn't just happen.
There are times in our contemporary history when we need to give small nudges to accelerate change.
The aim is to get people used to seeing women in positions previously unoccupied by them. Furthermore, quotas must always be complemented by the creation of safe spaces to ensure an equal opportunity to speak. 
When we talk about the feminist internet, the feminist code specifically, it is complicated to try to force technological development in a certain direction. We are seeing more and more MPs taking up these digital issues but they are sometimes doing it in a very clumsy way. So MPs are not the most relevant people here. The people who know best how to tackle these issues are the digital practitioners. They live it, they can describe it, they can speak out for it and they can act to change it. 
Finally, there is the issue of personal data protection for women. The case of revenge porn is an all too common example of personal data breach and must be taken into account in legislation.