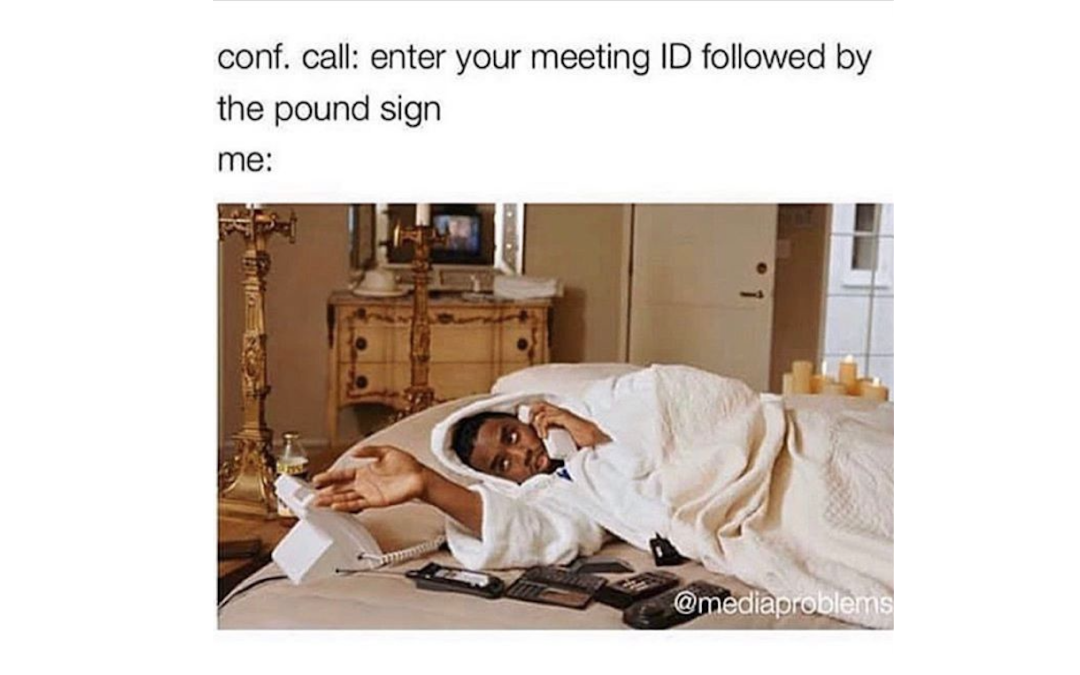 In this article, discover the keys to a very well improvised organisation, and the birth of a new digital solidarity.
Big-up to all our collaborative tools
Anticipating the confinement of a few days, we decided on a "remote first" internal reorganisation for the duration of the epidemic.
It is true that we are all, more or less, used to teleworking. And it must be said that we have the best tools to work remotely:
Notion: the knowledge base for organising the work of teams. This is where we have created a "COVID-19 Remote Policy" space to share telework rules and good practices, as well as doses of positive vibes.
A collaborative Covid-19XOSP playlist where we share all our favourite music to keep our spirits up from a distance.
A shared folder -whose name will be withheld- where everyone goes to find the resources he/she needs.
Github Github: our technical team is already used to working on the codes of our platforms on this famous collaborative tool for developers.
Rocket Chat: an open source alternative to Slack for our daily chats. This is where we have opened a thread dedicated to containment where we share our feelings, our emotions and where we talk about the back of Covid-19... It must be said that two and a half people of the team have symptoms that make us think they have caught the virus (the half portion is Eloise who suddenly lost the taste... by the way, if someone finds it again, please mp us).
It is also on Rocket Chat that, each day, the members of the different teams announce the tasks they are going to carry out for the day, but also their blocking points and their needs (help, advice...):


Since we're all at home, we're sharing as much as possible of what we're doing with the other team members - and not just to let everyone know that we're actually working and not in the middle of a Sims game. Being physically separated means that we have to share our progress and difficulties more. This, in turn, gives us more visibility on the role and missions of each team member... and that makes for some great discussion channels to bring up!
Jitsi Jitsi: we thank from the bottom of our hearts this videoconferencing platform which has opened more servers in France since the confinement, and which thus saves our organisation. We were already used to using Jitsi for remote meetings and training, but since the quarantine it has become the central space of our internal organisation.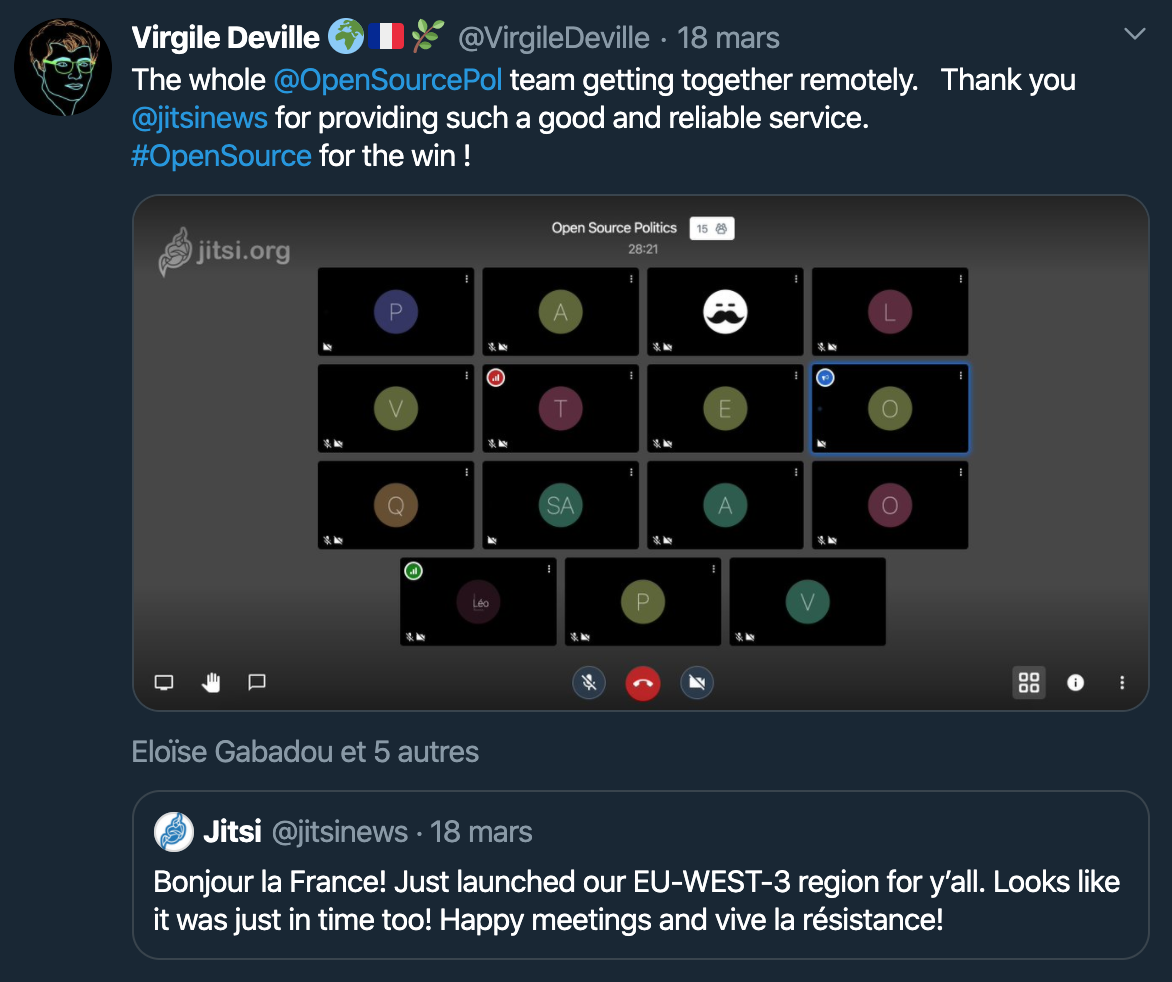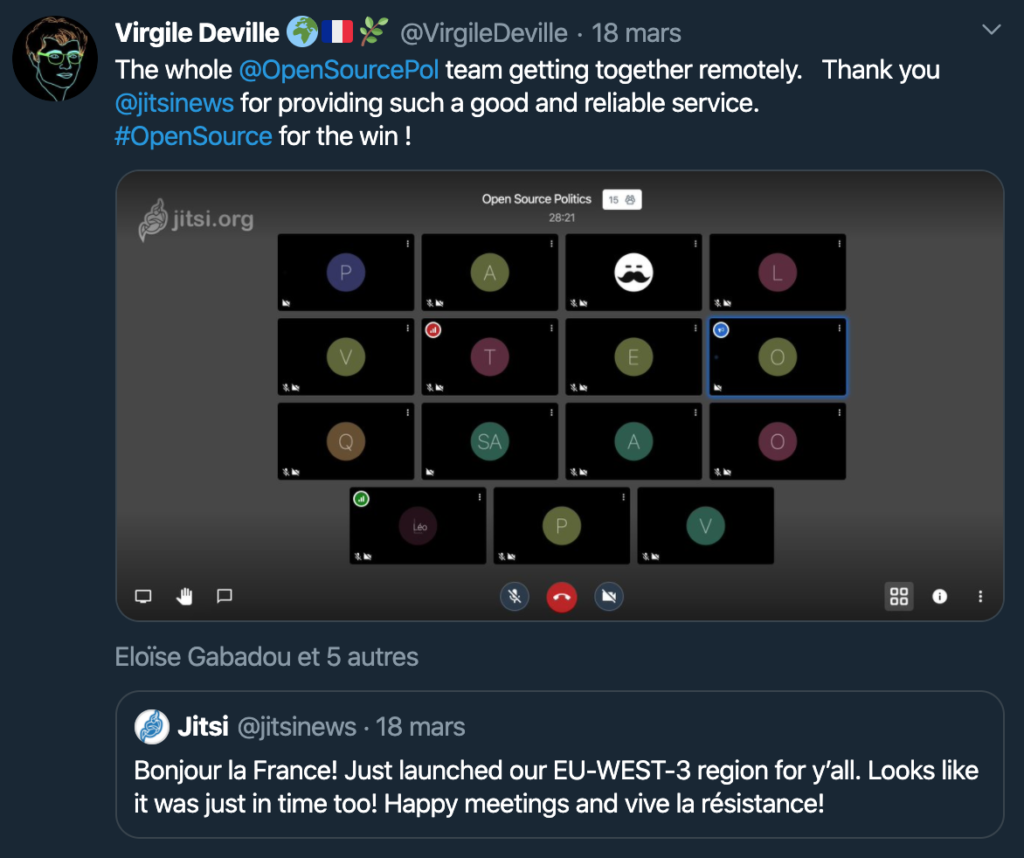 Every Monday we take the temperature of the company through the news of each of its members and discuss the big issues of the week. Sometimes we have breakfast together (for ASMR lovers this is really good).
We also use Jitsi to conduct individual interviews to make sure that everyone is experiencing the situation personally and professionally. 
All week long, Jitsi accompanies us, and allows us to follow the Webinar trend... and we love it! Our different teams have already organised five of them!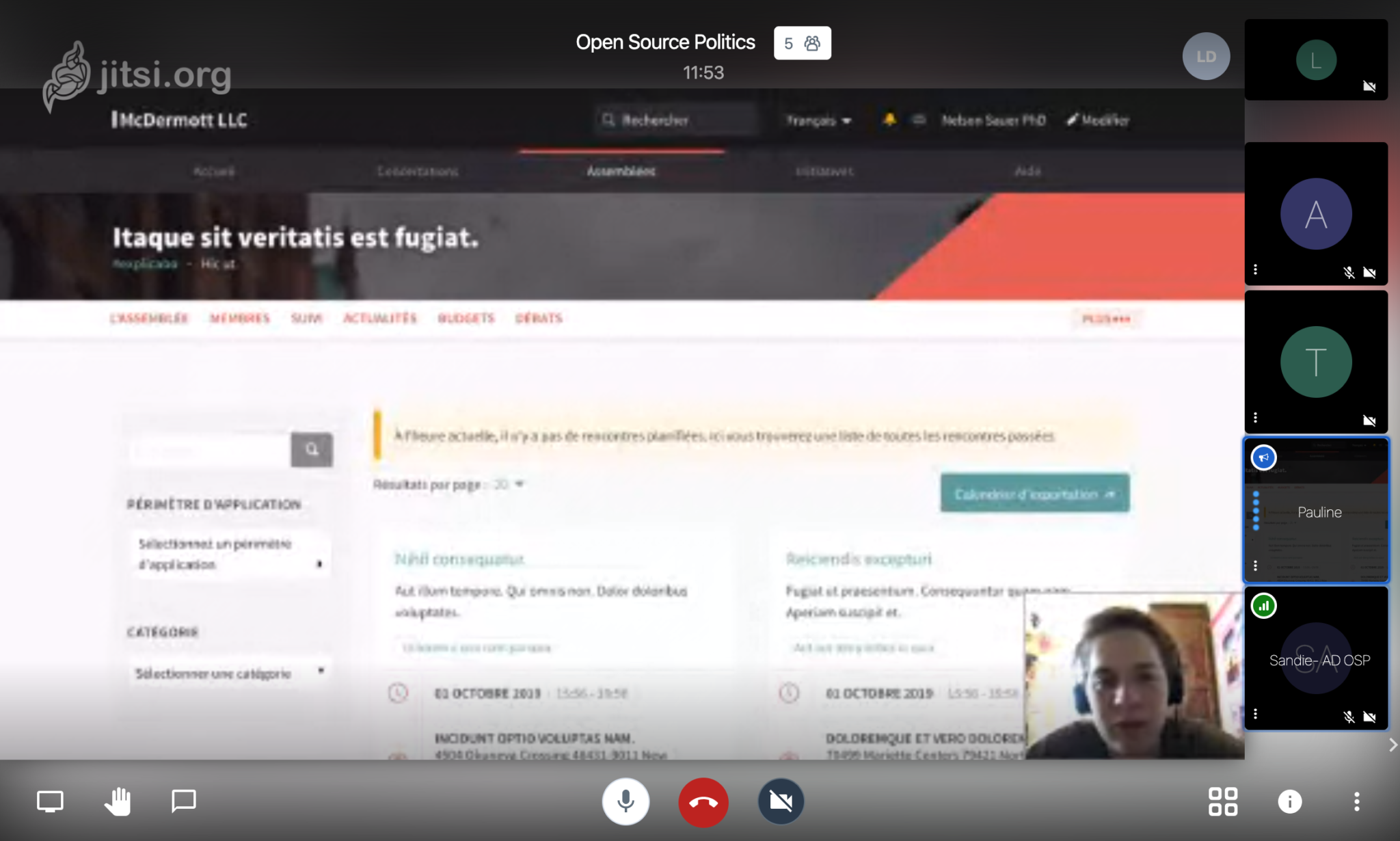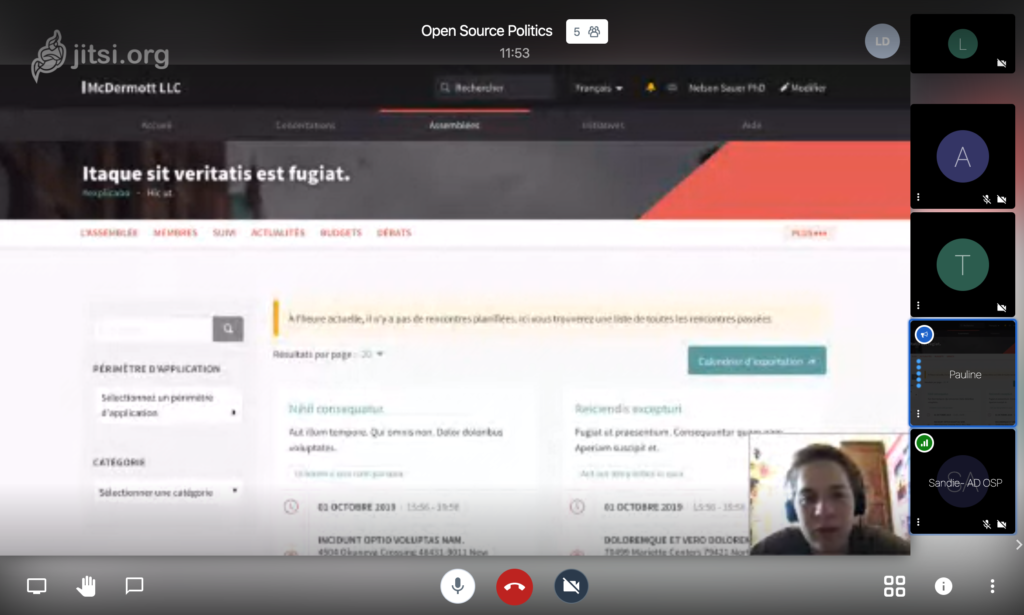 The idea is to introduce the rest of the staff to the tools we use, to give organisational tips, and to share our skills with others. We are already seeing a good pedagogical trend: during the webinars, we do not assume that others know. This allows us to consolidate some of the basics, or even to build on them for those who have just arrived at OSP. These webinars allow us all to develop valuable soft skills and to better understand the details of each other's work. 
"Working at home means fewer distractions", says Eloise, "but I miss your heads". It's true that we all feel a bit strange to go from a full open space (with a big thought for the Liberté Living-Lab team) to an empty living room/bedroom/kitchen. So we do our best to make sure that nobody feels too lonely. 
Finally, we use Jitsi with our clients for scoping meetings, training, or to review ongoing platforms, as business has not slowed down for OSP!
Democracy continues... and digital solidarity is built.
In the circumstances we are experiencing, participation platforms are ideal for continuing to animate communities and/or organise themselves remotely. In the space of ten days, six organisations have already approached us either to open internal collaborative organisational spaces or to set up mutual aid networks in a given territory. 
By adapting the functionalities at the margin, our platforms allow the sharing of information, the emergence of new solutions and remote communication to be well organised. Several of these projects dedicated to the time of containment are implemented by our consulting teams.
The rest of our platforms are still running. For example, the city of Angers and the department of Touraine are maintaining their participatory budgets. The national debate on the Common Agricultural Policy and theNational Assembly 's consultationon digital identity are continuing and their dates have even been extended.
Moreover, associations whose organisation is disrupted can use Decidim free of charge thanks to the Agorasso project set up by the Code for France association, which we support. Decidim can enable all structures to invent new ways of working, adapted to social distancing. 
In addition to a digital democracy that continues to function, we can see that a new solidarity is being put in place just about everywhere. For example, the enpremiereligne.fr and solidarite-numerique. fr platforms provide a mutual aid system designed to relieve those who cannot stop working or stay at home, on the one hand, and to share resources in order to make it easier for as many people as possible to take action, on the other. Two other useful civic-tech examples in the face of Covid-19.
As you will have understood, our activity continues at a distance, thanks to the best collaboration tools available. So we can continue to support our digital participation platforms based on open source and resilient software, which are finding a new use at this particular time. Take care of yourself and others by staying at home. This does not prevent you from participating!